Wiki Targeted (Entertainment)
Play Sound
The relationship between Alex Nuñez and Carla Carlisle is known as Calex (Carla/Alex). It began in the sixth season of Degrassi: The Next Generation.
Relationship History
Overview
Alex and Carla formed a relationship off-screen sometime during the sixth season, though it did not last very long, as Alex broke up with her because the pair had little in common, making it not worth her time and effort. Although, another unstated reason for their break-up was that Alex was not over Paige Michalchuk during their relationship.
Season 6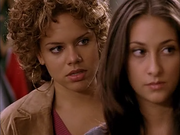 In Free Fallin' (1), Alex mentions to Paige that she has a girlfriend, but Paige does not fully believe her, calling Alex's girlfriend imaginary during a panic attack when she was yelling at her. Alex then decides to bring Carla to the Thanksgiving dinner with the Del Rossis and Michalchuks, jokingly introducing her as her "imaginary girlfriend". Alex tells everyone at dinner that Carla is an honours graduate and that she is captain of Toronto University's distance running team.
In Free Fallin' (2), Alex mentions to Paige that she and Carla have a date that night at The Dot, and Carla is paying. Later that night, Carla is complaining about how disgusting The Dot's salad is, and Alex tells her maybe if she tried red meat, then she wouldn't be so cranky. Paige interrupts their date, and starts to bond with Carla, while Alex watches them. Later that night, Paige kisses Alex, though Alex does not respond to her advances.
In Love My Way, at Dylan's going away party for moving to Switzerland to join their hockey team, Paige asks Alex where Carla is, to which Alex says she is ditching her to be at pottery class. Later, Alex kisses Paige, saying she loves her, therefore cheating on Carla.
In Don't You Want Me? (1), Alex tells Paige that Carla was "slumming" it with her, and she broke it off with her because they had nothing in common, making the relationship not worth her time or effort.
Timeline
Rival Relationships
Trivia
Carla was the only minor character with whom Alex had a relationship.
Their relationship was mentioned in more episodes than it appeared.
Gallery