Angel Erica Stone
is a minor character, appearing in the eighth season of
Degrassi: The Next Generation
. She is
Peter Stone
's younger half-sister, and is the daughter of
Troy Stone
and
Missy Stone
. Peter initially resented her, but grew to bond with her. She only made one appearance in the series.
Character History
Background
While Troy and Missy were dating, Missy became pregnant with Angel. The two later marry and raise her together.
Season 7
In We Built This City, Missy is pregnant with Angel. Troy and Missy do not let Peter move in with them because there would not enough room with the baby coming.
Season 8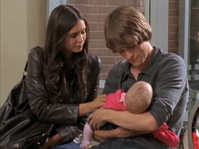 In
Heat of the Moment
, Troy drops by Peter's loft unannounced and asks Peter to watch Angel, which forces Peter to cancel his band practice that was going on. Peter expresses his dislike of her to his girlfriend,
Mia
, though she tells him to give her a chance. During the times that Peter would babysit, Angel would mostly cry. However, when Troy tries to push his assistant to watch Angel, Peter volunteers to watch her because he recalls what it felt like being neglected by his father as a child. Peter makes Troy promise to be a better father to Angel than he was to him.