Councillor Bev Greyson
was a minor character who appeared in
Season 10
of
Degrassi
. She was a politician that was planning on running for Mayor of
Toronto
, and was the leader of the internship in which
Holly J. Sinclair
and
Chantay Black
were taking part. She was portrayed by Jennifer Gibson.
Character History
Season 10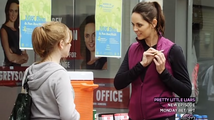 In
Hide and Seek (1)
, Councillor Greyson is the leader of the work study that Holly J. and Chantay are working for on the side of their studies. Ms. Greyson is impressed with Chantay's work, but not as much with Holly J.'s work, though says she sees potential in her. Later, while Holly J. and Chantay are working on envelopes for the group, Holly J. asks Bev to listen to her idea, but Bev says that they must first organize the 10k run that Holly J. and Chantay must participate in as well. Later, at the run, Bev compliments Holly J. and Chantay, and reveals that she will be running for mayor that summer, saying their work study could turn into a summer job for them.
In Hide and Seek (2), Holly J. pushes herself to make it through the day for her and Chantay's presentation for Bev. They propose that Bev have a campaign of tweets to interest young voters in politics and the candidates. Holly J. urinates in the middle of the presentation, and Chantay quickly walks her in out, causing Bev to look back at the two as they walk out. Later, while Holly J. is in the hospital, Bev comes to visit her, and asks her and Chantay to work for her that summer for her campaign.