Blake Mitchell
is the Creative Writing teacher at
Degrassi Community School
. He is portrayed by
Michael Brown
.
Character History
Degrassi: Next Class
Season 1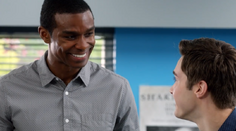 In
#NoFilter
, after
Miles
delivers a poem in class insulting
Tristan
, Mr. Mitchell is displeased and tells Miles to rewrite it. Later, he is impressed with how Miles opened up to the class about how everyone expects you to feel certain ways, and expresses to him that he is surprised and wants to see more of it. 
In #YesMeansYes, Esme frames Miles for cutting her hair in class, and Mr. Mitchell gives Miles detention.
In #ButThatsNoneOfMyBusiness, Mr. Mitchell praises Miles's story, and says The Interpreter wants to publish it with a profile on Miles. Miles is excited until Mr. Mitchell says they'll want to ask what his short story is about, and Miles admits it's about his father. Miles mentions to the reporter he never thought he was any good before Mr. Mitchell. In class later, Mr. Mitchell makes Miles's story required reading.
In
#ThisCouldBeUsButYouPlayin
,
he calls on Miles, who is hungover in class, to answer a question.
Winston
, however, answers for him.
In #SinceWeBeinHonest, he goes over reviews for the upcoming exam.
Season 2
Season 3
Season 4
Community content is available under
CC-BY-SA
unless otherwise noted.