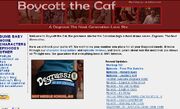 Boycott the Caf (BtC) is a Degrassi: The Next Generation fansite that makes fun of the show. In 2005, it was acclaimed by a panel at Harvard University to be "the most awesome thing since David Lee Roth". It features humorous recaps of episodes and characters and rates each episode's level of intensity, a reference to a slogan that The N used in the show's first few seasons.
Boycott the Caf was founded by Billy Green and Johnny Dangerous, and is a spin off of Dumb Baby, a general humor site the alleged homosexual couple maintain. Boycott the Caf also has a forum where fans can discuss various aspects of the show.
In 2011, it was announced that they would no longer be reviewing Degrassi on their website. However, the two came back and created a new website called Porpoise of Life (later renamed Warm Fuzzy Glow), continuing to recap Degrassi on a less regular basis. 
External Links