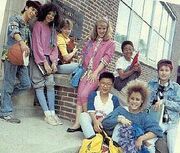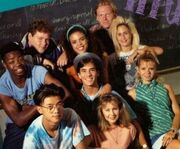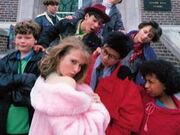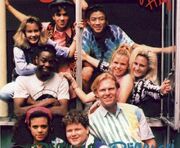 All the Episodes, from both 2 seasons, from the TV series Degrassi High, are listed below, along with the main events that happened in the episode.
SEASON 1:
A New Start, (Pt. 1) - Erica is Pregnant
A New Start, (Pt. 2) - Erica is Pregnant
Breaking Up Is Hard to Do - Michelle's Parents Split Up
Dream On - Arthur Fantasizes about his Dream Girl
Everybody Wants Something - The Zitz make A Music Video
Just Friends - L.D has Leukemia
Little White Lies - Diana starts Drinking and Smoking
Sixteen (Pt. 1) - Michelle Moves Out
Sixteen (Pt. 2) - Michelle Moves Out
All In a Good Cause - Claude and Caitlin Spray Paint a Factory
Natural Attraction - Erica starts dating again and Heather Disapproves
Testing 1...2...3... - Joey Gets his Drivers License
It Creeps! - Lucy Directs her first Movie
Stressed Out - Snake is scared of failing his Driving Test, Again
SEASON 2:
Bad Blood (Pt.1) - Dwayne has HIV
Bad Blood (Pt. 2) - Dwayne has HIV
Loyalties - Caitlin's Dad is Having an Affair
A Tangled Web - Wheels starts Acting Out
Body Politics! - Alexa and Michelle are Totes BFF's Again
Crossed Wires - Liz is Haunted by Memories of being Sexually Assaulted as a Child
The All-Nighter - Kathleen Brings Marijuana to Diana's Birthday Party
Home Sweet Home - Joey asks Wheels to Leave
Extracurricular Activities - Bronco reveals to Lucy Savages are Filming at Degrassi
Showtime - Claude Tanner Commits Suicide
Three's a Crowd - The Degrassi kids go Looking for Dates
One Last Dance! - Dwayne Reveals he has HIV
Schools Out - School is out, and everyone heads in different directions.
Trending pages
All items (30)
A
B
C
D
E
H
I
J
L
N
O
S
T