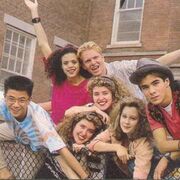 All episodes from all the seasons of
Degrassi Junior High
 are listed below, along with the main events that happened in the episode.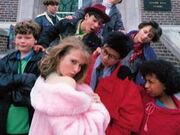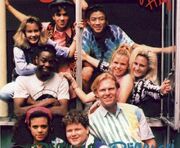 SEASON 1:
Kiss Me, Steph - Steph swaps kisses for votes
The Big Dance - Voula sneaks out to go to The Big Dance
The Experiment - Arthur puts the "Fool" in "Foolproof Plan"
The Cover Up - Joey sees Rick's father abuse him
The Great Race - L.D challenges the boys to a battle of the sexes
Rumor Has It - Rumors Spread that Ms. Avery/Caitlin are lesbians
The Best Laid Plans - Stephanie asks Wheels out on a date
Nothing to Fear - L.D.'s Dad goes to the hospital
What a Night! - Lucy steals clothes with Voula
Smokescreen - Rick likes Caitlin and joins the Environment Club
It's Late! - Spike finds out she is pregnant
Parent's Night - Wheels' birth father randomly shows up
Revolution! - Stephanie's plan to make Wheels jealous backfires
SEASON 2:
Eggbert - Shane tries to understand and learn responsibility
A Helping Hand - Lucy becomes a class pet
Great Expectations - Joey tries to have sex with Liz
Dinner and a Show - Spike's Family and Shane's go to Dinner
Stagefright - Caitlin has epilepsy
Fight! - Joey fights Dwayne
Bottled Up - Kathleen's mom is an alcoholic
Sealed with a Kiss - Erica fears she may have mono
Dog Days - Stephanie's depression deepens
Censored - Caitlin tries to help Spike stay at Degrassi
Trust Me - Spike is thrown out of school
...He's Back - Lucy is scared because Mr. Colby is back
Pass Tense - Degrassi kids face their final exams
SEASON 3:
Can't Live with 'Em, (Pt. 1) - Wheels' parents are killed in a car accident
Can't Live with 'Em, (Pt. 2) - Wheels' parents are killed by car accident
A Big Girl Now - Lucy and Paul's relationship starts to turn sour
Seasons Greetings - Emma is born (This episode marks Emma's first time seen on Degrassi)
Loves Me, Loves Me Not - Caitlin gets hurt when she misunderstands Joey's intentions
He Ain't Heavy - Snake's brothe,r Glenn, shows up randomly and reveals that he is gay
The Whole Truth - Caitlin writes about Liz organizing a protest for animal rights
Star-Crossed - Erica and Heather switch places
Food For Thought - Heather, Erica, and Melanie are concerned Kathleen and Lucy may have anorexia
Twenty Bucks - Shane uses his child support money to go to a concert
Taking Off, (Pt. 1) - Wheels runs away
Taking Off, (Pt 2) - Wheels runs away
Making Whoopee - Arthur starts feeling rejected
Black and White - B.L.T. asks Michelle to the graduation dance
Pa-arty! - Joey, Snake, and Wheels are caught buying beers
Bye-Bye Junior High - Students face their final exams, the grad dance, and saying bye to junior high.
Trending pages
All items (45)
.
A
B
C
D
E
F
G
H
I
K
L
M
N
P
R
S
T
W