Chester Hosoda-Bloom
was a minor character in
Season 4
of
Degrassi: The Next Generation
. He was an object of affection for
Manny Santos
,
Darcy Edwards
, and
Chantay Black
. He was portrayed by
Philip Nozuka
.
Character History
Season 4
In Bark at the Moon, Manny Santos flirts with him, as she is in denial about her relationship with Spinner. He comes up with the idea of the Cupid's Dance and tests out the system with Manny's help. Although Manny is dating Spinner, she wants the system to pair her and Chester up. Her plan backfires as she sees that she is paired with Danny Van Zandt, while Chester is paired with Darcy Edwards. Manny breaks up with Spinner when he arrives late to the dance, and she proceeds to flirt with Chester when Darcy goes to get a drink. They dance together and Manny unknowingly humiliates him, so he leaves her on the dance floor. Feeling awkward, he walks into the hallway and Manny followed him. The two decide to start over and Chester starts to kiss Manny. She began to kiss him back but stops when she realized she really wanted Spinner instead.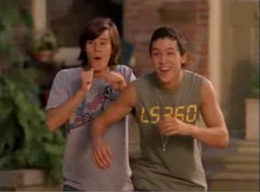 In Modern Love, Chester and his family become Emma Nelson's new next door neighbors. Chester and his brothers ruin Emma's girl's night away from boys. They proceed to call Emma a "hoe" and give her a wet top by splashing her shirt. Though Manny, Darcy, and Chantay all had a crush on Chester, they lose interest in him after this prank, and they get revenge by decorating a Christmas tree outside his house in tampons. Emma was caught by the police, but no charges were pressed and Chester later apologized and said he would keep the girls updated on any further pranks. He was never seen or mentioned again.
Trivia
Chester only appeared in two episodes overall.
He was not seen or mentioned after Modern Love.
Chester's brothers, Chad and Chuck are Philip Nozuka's real life brothers Justin and George Nozuka, who are both singers.
He was mean to Emma, but her friends Manny, Darcy, and Chantay had a crush on him.
He shares the line, "Welcome to Degrassi" with Eli and Alex.