The 13th season of Degrassi premiered on July 11, 2013, on MuchMusic in Canada and TeenNick in the United States. The first part of the season (13A) followed a weekly format for 7 weeks, depicting the summer of 2013. The second part of the season (13B) followed a weekly format for 8 weeks, depicting the fall of 2013. The rest of the season (13C and 13D) depicts the remaining parts of 2013-2014 school year. Since the premiere of 13B on October 3, 2013, episodes aired on MTV instead of MuchMusic in Canada.
Three actors were added to the main cast in the summer block: Andre Kim, Eric Osborne, and Ana Golja. Two more were introduced in the fall block: Sara Waisglass and Nikki Gould. Niamh Wilson was added to the main cast in the winter block. The producers have also added some new people to the recurring cast.
Production and casting for the season began on November 2012 through January 2013, with filming beginning in April 2013 and wrapping up on October 24, 2013, at Epitome Pictures studios in Toronto, Ontario.
This season marks the reform of the show, introducing a new logo and opening sequence to the series, improved cinematography and a complete overhaul to the cast's appearance and style. It is also referred to as "A Whole New Degrassi" as seen in the promotional videos for the season (13A).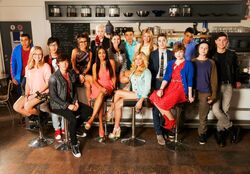 Main Cast
Degrassi Staff
Recurring Cast
Students
Other
Adults
Degrassi Staff
Character Descriptions
Winston Chu, Grade 11
Smart and sarcastic, yet best friends with the popular Miles Hollingsworth III, he successfully masks his insecurity with a funny, pessimistic attitude that protects him from taking risks and possible disappointments. He's often the voice of reason and a reluctant co-conspirator in hijinks.
Miles Hollingsworth III, Grade 10
Girls want him, guys want to be him. He's naturally athletic, and preternaturally good-looking. He just seems to breeze through life. Miles is just a kid looking for love and acceptance from his father after getting kicked out of boarding school. His father, Mr. Hollingsworth (the Second) is a popular business man about to run for mayor, and won't let his reckless son get in the way. Miles loves milking his rep as a troublemaker and arrives at Degrassi ready to stir things up.
Zoe Rivas, Grade 10
She is fierce and fashion-forward. She is a former television star best known for her role as Gatsby Garcia on West Drive. Having spent her formative years as mean girl Gatsby Garcia, Zoë was dumped and her character killed off. Intent on a fresh start, Zoë's excited to make new friends and date cute boys, having never really learned how to be anything but a mean girl, and uses her looks to get what she wants (a trick she learned from her overbearing stage-mom), Zoë's also desperate to hide a secret.
Trivia
It was originally confirmed by Linda Schuyler that one or two seniors would be held back for this season. However, three were actually held back — Drew Torres, Mike Dallas & Imogen Moreno.

Dallas, however, wasn't held back, he simply took a victory lap.

Casting/Auditions for new characters were held until December 17th, 2012. Source
Alex Steele confirmed that she will not return for this season, although there is a possibility she may return in the future.
This is the tenth school year featured in the series, also the third school year in the new Degrassi Era.
All episodes are still two parters, but some episodes are given a different name.
Episodes no longer air simultaneously in Canada and the US for 13A. They still air on the same day, except an hour later in the US.
The theme song, Whatever It Takes, is still performed by Alexz Johnson like Season 11 and Season 12, however, the audio is shortened. The visuals of the opening credits are also revamped, with vibrant colors and clips of episodes from the season.
Second time the show has introduced a new logo, the first being Season 6.
This is the first season with:
This season has covered the consequences and real-life issues of texting and driving.
The TeenNick slogans for the first block of the season are, "A Whole New Degrassi" and "We Are Degrassi", while the slogan for the second block is, "Are You Ready To Get Schooled? The slogan for the third block of the season is "More secrets. More betrayals. More scandals. More Degrassi."
Brainstorming took place on December 3rd, 2012, while casting ended on December 17th, 2012.
Filming for Season 13 began in early April of 2013.
It's been confirmed by Stephen Stohn that another new character coming this season will be related to either a past or current character. Source
When Stephan Stohn tweeted a character would come related to a current character. He meant Frankie.
There have been a total of three arrests this season.
The school will be fully or partially damaged and in need of repair during this season due to a thunderstorm, as the script for the first episode of season 14 mentions the Hollingsworth's donating money to rebuild the school.
This is the third season to have clips from the actual show used in the opening sequence. The first was in season 6. The second was season 7. Counting Degrassi only (excluding The Next Generation), this is the first season to do this.
Season 13 marks the second season with at least one regular cast member in each grade.
This season marks the final appearances of Bianca DeSousa, Adam Torres, Winnie Oh and Dave Turner.
Episodes
Main article: Episode Guide
Episode #
Title 
Canadian Airdate
U.S. Airdate
Production#
Series #
1-8
(13A)
It's a Whole New Degrassi
July 11, 2013
July 11, 2013
1301-1308
318-325
1-2
Summertime
July 11, 2013
July 11, 2013
1301-1302
318-319
3
All I Wanna Do
July 18, 2013
July 18, 2013
1303
320
4
My Own Worst Enemy
July 25, 2013
July 25, 2013
1304
321
5
About a Girl
August 1, 2013
August 1, 2013
1305
322
6
Cannonball
August 8, 2013
August 8, 2013
1306
323
7
Honey
August 15, 2013
August 15, 2013
1307
324
8
Young Forever
August 22, 2013
August 22, 2013
1308
325
9-16
(13B)

Are You Ready
to Get Schooled

October 3, 2013
October 3, 2013
1309-1316
326-333
9
This Is How We Do It
October 3, 2013
October 3, 2013
1309
326
10
You Got Me
October 10, 2013
October 10, 2013
1310
327
11
You Oughta Know
October 17, 2013
October 17, 2013
1311
328
12
Everything You've Done Wrong
October 24, 2013
October 24, 2013
1312
329
13
Who Do You Think You Are
October 31, 2013
October 31, 2013
1313
330
14
Barely Breathing
November 7, 2013
November 7, 2013
1314
331
15
Black Or White
November 14, 2013
November 14, 2013
1315
332
16
Spiderwebs
November 21, 2013
November 21, 2013
1316
333
17-30
(13C)

More Secrets More Betrayals
More Scandals More Degrassi

January 28, 2014
January 28, 2014
1317-1330
334-347
17
The World I Know
January 28, 2014
January 28, 2014
1317
334
18
Better Man
February 4, 2014
February 4, 2014
1318
335
19
Dig Me Out
February 11, 2014
February 11, 2014
1319
336
20
Power to the People
February 18, 2014
February 18, 2014
1320
337
21
No Surprises
February 25, 2014
February 25, 2014
1321
338
22
Basket Case
March 4, 2014
March 4, 2014
1322
339
23-24
Unbelievable
March 11, 2014
March 11, 2014
1323-1324
340-341
25
What It's Like
March 18, 2014
March 18, 2014
1325
342
26
Close to Me
March 25, 2014
March 25, 2014
1326
343
27
Army of Me
April 1, 2014
April 1, 2014
1327
344
28
Everything Is Everything
April 8, 2014
April 8, 2014
1328
345
29
Sparks Will Fly (1)
April 15, 2014
April 15, 2014
1329
346
30
Sparks Will Fly (2)
April 22, 2014
April 22, 2014
1330
347
31-40
(13D)

Heartbreaks
& Broken Promises

June 3, 2014
June 3, 2014
1331-1340
348-357
31
You Are Not Alone
June 3, 2014
June 3, 2014
1331
348
32
Enjoy the Silence
June 10, 2014
June 10, 2014
1332
349
33
How Bizarre
June 17, 2014
June 17, 2014
1333
350
34
My Hero
June 24, 2014
June 24, 2014
1334
351
35
Hypnotize
July 1, 2014
July 1, 2014
1335
352
36
Out of My Head
July 8, 2014
July 8, 2014
1336
353
37
Believe (1)
July 15, 2014
July 15, 2014
1337
354
38
Believe (2)
July 22, 2014
July 22, 2014
1338
355
39-40
Thunderstruck
July 29, 2014
July 29, 2014
1339-1340
356-357
Degrassi Minis
Extras
Promos & Videos
13A
13B
13C
13D
Season 13 Gallery