The Emmy-nominated 14th season of Degrassi premiered on Tuesday, October 28, 2014, on MTV (Canada) and TeenNick (U.S.). Filming for the season commenced on April 11, 2014 at Epitome Studios in Toronto. Filming continued into August, with a break before filming the final four episodes of the season in order to give Epitome the opportunity to start filming episodes for the first season of their new series, Open Heart, starring former Degrassi stars, Dylan Everett, Justin Kelly, and Cristine Prosperi. Filming for this season completed on October 6, 2014. This season depicts the students' return from spring break and the remaining parts of the 2013-2014 school year and the summer of 2014.
On June 4, 2015 it was announced that Season 14 would be the final season of Degrassi to air on TeenNick and MTV Canada and after a two-week long event, the two-part finale would air on July 31, 2015 following an hour-long special entitled "It Goes There: Degrassi's Most Talked About Moments," where cast members, creators, and fans will discuss the series.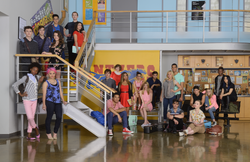 Main Cast
Munro Chambers as Eli Goldsworthy, a talented writer/director in NYU who struggled with bipolar disorder. He was the father of Clare Edwards' baby, until she miscarried.
Degrassi Staff
Other
Craig Arnold as Luke Baker, a Christian former hockey and basketball player in juvenile detention for sexual assault.
Recurring Cast
Students
Liam Green as Damon, a wise and outspoken student with a sense of humour. (Grade 10)
Nicole Samantha Huff as Gloria Chin, the catty captain of the Newman Dragons. (new) (Grade 10)
Ehren Kassam as Jonah Haak, a supposedly former troublemaker who is interested in rock music and has seen the light. (New) (Grade 11)
Devyn Nekoda as Arlene Takahashi, the quintessential nerd who can be found reading comics while wearing elf ears, but is picked on by the cheerleaders. (New) (Grade 9)
Adults
Staff
Trivia
Season 14 was pushed back from October 7th to October 28th.
Season 14 featured a music video promo which made its debut on September 30th, 2014.
Stephen Stohn confirmed on November 13th, 2013 that Season 14's brainstorming was underway.
Auditions were held from Dec. 19, 2013-Jan. 17, 2014.
The first read through of the season took place on March 27, 2014.
Luke Bilyk tweeted that the first day of filming was on April 11, 2014.
This is the first season to be produced by DHX, who recently bought Epitome; it's also possible that this season will consist of 28 episodes. (Source)
Season 14 is the last season to feature students who debuted prior to the The Next Generation tagline being dropped.
Season 14 will mark the 20 year graduation anniversary of the original DJH characters. (Season 1 featured the 10 year high school reunion, and the current school year is the 10th school year since then).
Filming ended on October 6, 2014. (Source)
The season premiere was half an hour long instead of the usual hour long.
First season to have the season premiere not be a two-parter episode.
This season is the first to follow the TNG-style of seasons/episodes since Season 11 (LoveGame, What's My Age Again?, and Idioteque), where only one episode contained an A, B, and C plot, instead of being spread over two episodes.
First season not to feature the school's entrance in the opening credits.
Shane Kippel (Spinner Mason) guest starred in There's Your Trouble, the fifth episode of the season. 
This season ended with a two-hour four-part long special.
This season marks the end of the 2013-14 school year.
This is the first season since Season 9 to not include 30 episodes. 
This season marks the final appearances of Connor DeLaurier, Drew Torres, Mike Dallas, Clare Edwards, Alli Bhandari, Jenna Middleton, Becky Baker, Imogen Moreno, Eli Goldsworthy, Luke Baker and Jack Jones. 
This is the first season since Season 9 to have a full length movie.
This is the first season since Season 12 to end with a TV movie.
This is the final season of Degrassi to air on TeenNick and MTV Canada.
This is the first season ever in Degrassi history to have a character lose a baby from a miscarriage.
Episodes List
Main article: Episode Guide
Episode #
Title 
Canadian Airdate
U.S. Airdate
Production#
Series#
1–12
14A: Life Can Change Forever
October 28, 2014
October 28, 2014
1401–
1412
358–
369
1
Smells Like Teen Spirit
October 28, 2014
October 28, 2014
1401
358
2
Wise Up
November 4, 2014
November 4, 2014
1402
359
3
If You Could Only See
November 11, 2014
November 11, 2014
1403
360
4
Can't Stop This Thing We Started
November 18, 2014
November 18, 2014
1404
361
5
There's Your Trouble
November 25, 2014
November 25, 2014
1405
362
6
(You Drive Me) Crazy
December 2, 2014
December 2, 2014
1406
363
7
I'll Be Missing You
December 9, 2014
December 9, 2014
1407
364
8
Hush
December 16, 2014
December 16, 2014
1408
365
9
Something's Got to Give
December 23, 2014
December 23, 2014
1409
366
10
Hero vs. Villain
December 30, 2014
December 30, 2014
1410
367
11
Firestarter (1)
January 6, 2015
January 6, 2015
1411
368
12
Firestarter (2)
January 13, 2015
January 13, 2015
1412
369
13–24
14B: The Final Chapter
July 20, 2015
July 20, 2015
1413–
1424
370–
381
13
Watch Out Now
July 20, 2015
July 20, 2015
1413
370
14
Ready or Not
July 20, 2015
July 20, 2015
1414
371
15
Wishlist
July 21, 2015
July 21, 2015
1415
372
16
Walking in My Shoes
July 22, 2015
July 22, 2015
1416
373
17
Get It Together
July 23, 2015
July 23, 2015
1417
374
18
Give Me One Reason
July 24, 2015
July 24, 2015
1418
375
19
I Wanna Be Adored
July 27, 2015
July 27, 2015
1419
376
20
Teen Age Riot
July 28, 2015
July 28, 2015
1420
377
21
The Kids Aren't Alright (1)
July 29, 2015
July 29, 2015
1421
378
22
The Kids Aren't Alright (2)
July 30, 2015
July 30, 2015
1422
379
23
Finally (1)
July 31, 2015
July 31, 2015
1423
380
24
Finally (2)
July 31, 2015
July 31, 2015
1424
381
25–28
Don't Look Back
August 2, 2015
August 2, 2015
1425–1428
382–385
Degrassi Minis
| Episode # | Title | Release Date | Mini # |
| --- | --- | --- | --- |
| 1 | Champagne Supernova: Miles | February 3, 2015 | 92 |
| 2 | Champagne Supernova: Jack | February 3, 2015 | 93 |
| 3 | Champagne Supernova: Lola | February 10, 2015 | 94 |
| 4 | Champagne Supernova: The Video | February 17, 2015 | 95 |
| 5 | Champagne Supernova: Tristan | February 24, 2015 | 96 |
| 6 | Champagne Supernova: Clare | March 3, 2015 | 97 |
| 7 | Champagne Supernova: Zoë | March 10, 2015 | 98 |
| 8 | Champagne Supernova: Maya | March 17, 2015 | 99 |
| 9 | Champagne Supernova: Zig | March 24, 2015 | 100 |
| 10 | Champagne Supernova: Winston | March 24, 2015 | 101 |
| 11 | Degrassi TV: Talking Body Issues | May 5, 2015 | 102 |
| 12 | Degrassi TV: Party Pressure | May 12, 2015 | 103 |
| 13 | Degrassi TV: Sexual Identity | May 19, 2015 | 104 |
| 14 | Degrassi TV: Tech & Social Media Etiquette | May 26, 2015 | 105 |
| 15 | Degrassi TV: Mean Girls & Female Bullying | June 2, 2015 | 106 |
| 16 | Degrassi TV: Masculinity in 2015 | June 23, 2015 | 107 |
| 17 | Degrassi TV: Lying | July 7, 2015 | 108 |
| 18 | Degrassi TV: Hidden Talents | July 14, 2015 | 109 |
Promos & Videos
14A
14B
Bloopers 
Season 14 Gallery