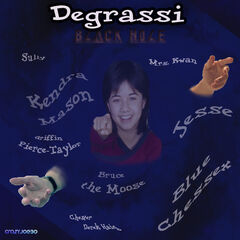 The Degrassi Black Hole
is a fan term for when characters from Degrassi have disappeared for no apparent reason. Sometimes the actor will leave the series or the writers don't have any material or story lines for the characters anymore. Whatever the reason, a character is considered "black holed" when they are never seen again and no explanation was given for their abrupt departure.
Characters That Entered the Black Hole
Main Characters
Recurring Characters
Kendra Mason (seasons 2-3) - Spinner's adoptive sister and Toby's love interest. It was said that she supposedly cheated on Toby during summer camp. She is often symbolic of the Degrassi Black Hole, since she was the first victim.  The actress was younger than 16 when her parents chose to pull her from the show because she was going to have a plot in season 4 where she would lose her virginity to Toby.
Robert Kerwin (seasons 1-4) - Ashley's father and Kate Kerwin's ex-husband. Last seen at his wedding with Christopher in Voices Carry (1) and Voices Carry (2).
Jeff Isaacs (season 1-2) - Toby's father and Ashley's stepfather. Last seen in Dressed In Black.
Chris Sharpe (seasons 3-4) - Emma's love interest, but after they broke up, he was only seen making fun of her for contracting gonorrhea. After that, he disappeared.
Lucas Valieri (seasons 7-8) - Jane's older brother, Mia's ex-boyfriend and Isabella's father. Has not been seen or mentioned since Jane Says (2).
Mark Fitzgerald (seasons 9-10) - A former bully that got expelled from bringing a knife to school. Hasn't been seen on camera since Jesus, Etc. (2). He was supposed to be a cast regular starting in Season 10.5, but was absent when the parts of the opening were filmed, so it never happened.
Sadie Rowland (season 10-11) - Faded away after she and Dave broke up. Last seen auditioning for Love Roulette.
Laura Kwan (seasons 1-9) - Disappeared after season 9.
Jess Martello (seasons 10-11) - Faded away after being ditched on her date with Drew.
Hannah Belmont (Seasons 10-11) - She was only around as a girlfriend for Wesley, and since he left the show, there is no more need for her.
Liam Berish (season 11) - Was highly rumored to become a main character for season 12 and have a storyline, but hasn't been seen since he quit The Degrassi Daily.
Ms. Dawes (seasons 8-11) - Hasn't been seen or mentioned since helping with Eli Goldsworthy's play Love Roulette in Extraordinary Machine (2).
Asher Shostak (season 12) - Last seen lying to Eli about Clare. Was said to be arrested and taken to court by Clare but hasn't been seen or mentioned since Scream (2).
Chantel Sauvé (seasons 2-10) - The school guidance counselor, last seen helping Holly J. with her college prerequisites. 
Mike Betenkamp (season 10-11) - Science teacher and Wesley Betenkamp's uncle. He has not made an appearance since Dead and Gone (1).
Keisha (season 13) - Was best friends with Frankie Hollingsworth and Zoë Rivas. She has not appeared since Believe (1).
Mr. Townsend (Season 12-13) - English teacher and head of Bright Sparks academic quiz team. He has not made an appearance since Who Do You Think You Are.
Caroline Nash (seasons 3-4) - Ellie's mother, a recovering alcoholic. Hasn't been seen since Queen of Hearts, though she was mentioned in later episodes.
Arlene Takahashi (season 14) - A love interest/friend of Hunter Hollingsworth. Last seen in Finally (1).
Damon Carter (Seasons 11-14) - A childhood friend of Zig Novak. He has not been seen or mentioned since The Kids Aren't Alright (2).
Rick Munro (Seasons 1-2) - Degrassi student. Had a rough home life until Joey Jeremiah helped him leave his abusive home. Possible love interest of Caitlin Ryan. Last seen in Pass Tense.
Minor Characters
Community content is available under
CC-BY-SA
unless otherwise noted.