Degrassi Talks was a documentary mini-series that aired shortly after Degrassi High ended in 1992. It featured six Degrassi stars who covered issues semi-related to their Degrassi characters. The show can be seen on the Degrassi Junior High DVD set.
Issues Faced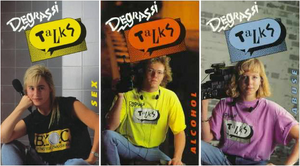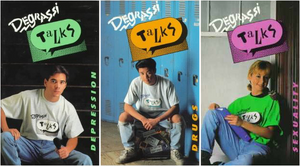 Trivia
Some of the Degrassi actors were featured in the series, as the Degrassi Talks crew.
Degrassi castmates Stacie Mistysyn and Keith White performed the Degrassi Talks theme song, which Keith wrote.
In the Degrassi Talks episode about abuse, Rebecca Haines revealed that she was date raped at the age of 17.