Did you know...
…Degrassi's first episode aired on September 12, 1979.
…Archie Simpson is the only character to be a regular since Degrassi Junior High.
…Degrassi originally focused on children between the ages of 6–11.
…Alex Steele has been on the show before as Angie, Craig's younger sister. More recently, she has portrayed Tori Santamaria.
…Adam Torres was the first scripted teen transgender character in television history.
…Darryl Armstrong, who portrayed Tom in the episode "It's Raining Men", committed suicide by jumping off a bridge on Mount Pleasant Rd in Toronto on January 30, 2005.
…Neil Hope who portrayed Derek Wheeler during Degrassi Junior High / High died in 2007, but his death was not revealed until 2012.
…Stacie Mistysyn gave birth to a son named Grayson on June 29, 2012.
…Amanda Stepto is adopted in real life.
…Sara Ballingall who portrayed Melanie Brodie was stalked by a fan who tried to kill her.
…Shenae Grimes and her friend were kidnapped when they were in the fourth grade.
…Snake and Caitlin were the only ones to use the word "fucking" on Degrassi, and they were the first ones to use it on Canadian television history.
…Emma Nelson was named Emma in honor of DJH winning an Emmy award for Spike's pregnancy story line.
…Most of the DJH/DH cast used their own clothing and wore their own make up instead of depending on a makeup and wardrobe department.
…Up until 2015, Degrassi was aired on Nickelodeon for countries that didn't have the TeenNick channel.
…According to the DVD commentary, the episode "Secret" was the first use of the word "blow job" (as said by Jay Hogart) on any Viacom owned network. Viacom owns many popular networks such as MTV, Nickelodeon, and Comedy Central.
…The whole Degrassi franchise (DJH/DH/DTNG) has dealt with a whopping total of 5 student deaths to date. (2 accidental, 1 murder, and 2 suicide)
…Aubrey Graham who portrayed Jimmy Brooks is now known as big rap sensation Drake.
…Throughout the entire Degrassi Franchise, there have been 104 main characters up to date.
The Degrassi franchise has produced 525 episodes (until #KThxBye) to this day. Degrassi: Next Class recently made an Alumni episode featuring characters from DTNG and Degrassi such as Emma Nelson in honor of the shows 500th episode.
…Aubrey Graham who portrayed Jimmy Brooks has admitted that he was high on marijuana during his audition.
… Degrassi co-creator Linda Schuyler is married to executive producer Stephen Stohn.
…Travis Donegan, the actor who portrayed Towerz was fired for being late to set too many times.
…Casting for Degrassi Junior High, which aired in 1987, was partially done through flyers and notices in Toronto papers.
… All of Shane Kippel's (Spinner) piercings on the show were real, although Stacey Farber's (Ellie), were fake.
… Clare Edwards was the first girl to have a miscarriage in all of the Degrassi franchise.
… The combination of the entire Degrassi Franchise between The Kids of Degrassi street have 26 episodes, Degrassi Junior High have 42 episodes, Degrassi High have 28 (+4 part School's Out!) episodes, both Degrassi: The Next Generation and Degrassi (Season 10) through Degrassi (Season 14) have 385 episodes (including specials and movies) and Degrassi: Next Class episodes from #BootyCall through #ThrowbackThursday (the first 15 episodes of Degrassi: Next Class) all combined with the franchise's 500 episodes.
...Yael Baron is the first non-binary character this show has ever seen.
...Degrassi Junior High and Degrassi Community school were both shot at real schools.
...Excluding season one, all the episodes from Degrassi: The Next Generation are named after songs.
...Spinner Mason used salami for his famous boner scene.
...Throughout the entire franchise there have been five main character deaths, eight pregnancies (two of which were Spike), three abortions, four cancer storylines, six school bands and over fifty love triangles.
...Paige Michalchuk and Griffin Pierce-Taylor are the first serodiscordant couple in Degrassi history.
...Mia Jones is the youngest Degrassi mom at 13 with Spike following her at 14.
...Liberty Van Zandt was possibly the first character to deal with postpartum depression.
...Jahmil French, who played Dave Turner died on March 1st 2021. The circumstances and cause of his death have not been revealed.
Are there any characters in the show with 2004 bdays?
… You can add more "Did You Know" Here!
Featured Character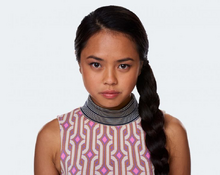 "I'm an enabler. Yeah. I know the psychobabble. — Esme to Miles"


Esme Song is a Senior (Grade 12) at Degrassi Community School. Prim and proper, a button-down keener on the outside, an erratic thrill-seeker on the inside, Esme's a student who lives in the moment. She's confident, knows what she wants, and isn't afraid to manipulate others in order to get it. These antics are rooted in her desperate need for attention, so when things don't go according to her plan, Esme lashes out irrationally. She was friends with Miles Hollingsworth III, on whom she used to have a crush on and was dating Zig Novak. She had a threesome relationship with Frankie and Zig Novak. She has conflicts with Winston Chu, Zoë Rivas, Maya Matlin, Tristan Milligan, Frankie Hollingsworth and Shay Powers. She is labelled as "The Bad Influence". She was portrayed by Chelsea Clark.
Featured Article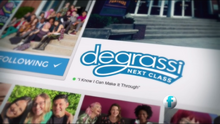 The 15th season of Degrassi (first season of Degrassi: Next Class) began airing on F2N on the Family Channel in Canada on January 4, 2016 and became available to stream on Netflix in most other territories worldwide on January 15, 2016. It began airing on ABC3 in Australia on May 16, 2016.


Production and casting for "season 15" (which would later be split into two seasons) had begun in the Winter of 2015. TeenNick and MTV (Canada) would soon after announce on June 4, 2015, that they would no longer be airing Degrassi. Producers and DHX Media had already be in talks for other means to distribute the series. A few weeks later, it was announced the series would be added to a new teen block called F2N on Family Channel while it would also join Netflix and be distributed in most countries worldwide. Filming for the started on June 15, 2015 and wrapped early September 2016. Five actors were added to the main cast for its upcoming run: Amir Bageria, Jamie Bloch, Soma Bhatia, Chelsea Clark, and Dante Scott. Read More....

Helping Out
All pages can be edited and you are welcome to join us and contribute to this wiki. Everyone is free to create a new page or edit an existing one. If you have any questions about the wiki or helping out, you can ask one of Degrassi Wiki's administrators.
If you are new to wikis, you may want to read the help page.
A list of all help pages can be found in.
If you want to help but you're not sure where to start, try improving the various articles by expanding them.
Another helpful activity would be to check the list of wanted pages for frequently linked-to articles that don't exist yet.
You can find a list of useful templates on.
If you want to experiment with editing a wiki, please do it in a sandbox, not in articles.
<createbox> width=24 break=no buttonlabel=Create new article </createbox>
Latest Blogs
Blogs
Hey all! I went on vacation for a few weeks (as you may have noticed by the wonderful Spongebob456 filling in for me to alert you all about Fandom's …
Hey all. Don't be alarmed, just standing in for Lostris for this post who will be back!
In June, Fandom is celebrating Pride Month! Fandom is excited …
The month of May is Asian American and Pacific Islander (AAPI) Heritage Month, during which the significant contributions of Asian Americans to Americ…
See more >
December
Click HERE to add your birthday to the list!