The friendship between
Drew Torres
and
Julian Williams
, known as 
Drulian
(
Dr
ew/J
ulian
). They first became friends through sports and mutual classes in their junior year.
Friendship History
Season 11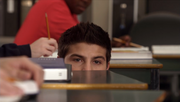 In
Idioteque
, Julian is in
Mr. Armstrong
's class and notices
Drew
shaking. He then jokes and asks him if he needs some coffee. After Mr. Armstrong tells Drew to pour water on his face, Julian gets the class laughing by telling Drew he should go change his underwear.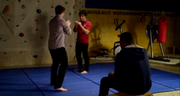 In Should've Said No (1), Julian witnesses Drew having another breakdown.
In Should've Said No (2), Drew mistakes Julian for Vince. Julian practices fighting with Owen, and pins him. Julian and Owen help Drew learn how to fight.
In Mr. Brightside (1), he is fighting Drew in the weight room. Later, he notices Drew drawing guns in his binder and asks him if he's alright. He is seen in class with Owen and Drew discussing Drew's fight with Mo. When they go back to train in the weight room, they discover that Mr. Simpson has put a lock on the room and supervision is now needed.
In Mr. Brightside (2), he walks into class with Owen, talking about how he found a new location for fights. After Drew says he's sorry for telling Katie about the fights, Julian tells Drew that he'll tell him the location later. Owen and Julian go to the fight location and realize that it's dangerous and try to leave. Drew shows up and challenges a man to fight. Once Drew gets knocked out, Julian and Owen go into the cage and try to wake him. After Drew wins his fight against his challenger the second time, Katie and Julian show up and try to calm him down, taking him away from the fight.
Trivia