Eduardo
is
Manny Santos
' uncle, who attended her debut. He has a fondness for karaoke.
Character History
Season 7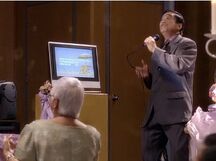 In
We Got The Beat
, he is first mentioned when
Julietta Santos
mentions that, "Uncle Eduardo has karaoke", which he would bring to the debut. He later attends Manny's debut and sits next to Manny's parents at a table. He is introduced to Manny's date,
Jay Hogart
, and asks Manny about her university decisions. Trying to get back at her parents, Manny acts as if she is giving up on her dream of acting and moving with Jay to the oil patch, where she would work as a maid. Her act successfully convinces
her father
and Uncle Eduardo, and her father pulls Manny aside to talk to her, leaving Eduardo to talk to Jay. He is later seen singing "
Waste My Time
" by Alexz Johnson on the karaoke.