"I own this place. Prom queen? It's in the bag. After all, as student council president, I'm all about the Panther spirit, service, and fellowship. But the thing is, I don't wanna run the bake sale... I just wanna make you cry."
— Holly J.'s profile
Holly Jeanette Sinclair, more commonly referred to as Holly J. Sinclair, is a graduate of Degrassi Community School and was the valedictorian of the Class of 2011. She is currently attending Yale University with Declan Coyne. When she first transferred over from Lakehurst Secondary School, she was only known as the younger sister of Heather Sinclair. Holly J. gained her reputation from Heather and used to be the mean girl of the school, with her main goal being to dominate Degrassi socially, but after karma caught up with her, she managed to transform into a kinder person.
The former student council president and Power Squad captain, Holly J. was shown to be an overachiever, often overworking herself. Though she can come off as blunt and arrogant, her sometimes abrasive personality stems from a deeply-seeded need to prove herself to others as a result of living in the shadow of her older sister. She is best friends with Fiona Coyne, Anya MacPherson, and Jane Vaughn, and is good friends with Chantay Black, Spinner Mason, Sav Bhandari, Marco Del Rossi and Emma Nelson. She was frenemies with Mia Jones and disliked Darcy Edwards, Manny Santos, Derek Haig and Owen Milligan. She used to have conflicts with Alli Bhandari, Clare Edwards and Jenna Middleton. She was portrayed by Charlotte Arnold.
Character History
Degrassi: The Next Generation
Season 7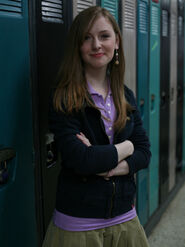 After Lakehurst burned down, Holly J. is then transferred to Degrassi along with the other Lakehurst students. She is the younger sister of Degrassi's ex-mean girl Heather Sinclair, who was the enemy of Degrassi's fashion queen, Paige Michalchuk. Like her older sister, Holly J. exhibits the same ill-humor and arrogance, cloaking it with a pleasant and somewhat preppy appearance and style.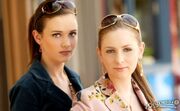 Her best friend is Anya MacPherson who follows Holly J.'s every move. Her main goal is to socially destroy all the Degrassi students, starting with her enemies, Darcy Edwards and Manny Santos. Holly J. and Darcy have a confrontation in the cafeteria the first day they meet, almost ending in a cat fight, and constantly bicker during Spirit Squad practice until Darcy quits. After Darcy quits Spirit Squad, Holly J. became the new Queen Bee of Degrassi - almost like the new Paige. She then spreads a rumor about Manny being racist after Manny and her ex-boyfriend Damian Hayes joke about their break-up, because of him being black.
Mia Jones and Holly J. have to share a locker because of Lakehurst being burned in a fire. They frequently insult each other and compete for the affections of Sav Bhandari, who (much to their shock) turns out to have feelings for Anya. Tension rises between the two when Mia joins the Spirit Squad and also when Mia tries to separate Anya from Holly J. Their rivalry reaches a climax when they have to debate in English class about adoption from foreign countries. They fiercely argue and it becomes clear that Holly J. disapproves of Mia being a single mother. Mia then evicts Holly J. from her locker. Ever since then, Holly J. has said very hostile things about Mia.
After realizing that Anya was beginning to be nice to Mia, Holly J. decides to treat Anya like dirt by telling to the entire Physics class that she has dyslexia and making her copy an old report from Heather for their class, only to tell on her during class. Mia really believed that Anya was going to stop hanging out with Holly J., because of this, but her response was "So I can be alone, like you, on a Friday night? I'd rather take a zero on my assignment."
In Sweet Child O' Mine, Holly J. is seen as Manny's new co-captain after Darcy quits; then Manny tells off Holly J. for saying that Mia shouldn't have been doing the splits and having a baby if she wanted to be on the Spirit Squad.
In Another Brick In The Wall, Holly J. falls for Toby Isaacs after he agrees to tutor her in Algebra. Toby is mutually attracted to Holly J., until they are seen together by Anya and her clique of friends, which reminds Holly J. of her social status and causes her to insult Toby. Holly J. then tries to explain to Anya that she is attracted to him and that they might like Toby. She then proceeds to apologize to Toby and explain that she is willing to lower her standards to date him and also insults Liberty, which backfires and causes Toby to reject her accusing her and her friends of being "shallow." Holly J. reacts by calling Anya and telling her they needed to discuss their "dependence on boys."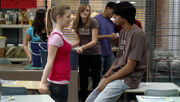 In Ladies' Night, Anya runs the Free The Children Freedom Fast to promote education and health in Africa. She tries to get Holly J. and Sav to get to know each other and become friends, by making them work together. Holly J. and Sav share some secrets, one of which he tells her, that in the future, he's going to have an arranged marriage. Holly J. tells Anya, trying to break them up. Anya confronts Sav, and he tells her that it would be later on and he wants to fight for them. Anya realizes that Holly J. was trying to ruin their relationship and vows revenge. Anya gives Holly J. a cookie during the fast and she eats it, not knowing there's a camera filming her. Later, Holly J. goes on stage, and people call her the cookie monster and throw paper balls at her. After that, Sav's band Stüdz performs a song, improvised with the words, "Holly J. Sucks."
Holly J. is mad, and when there is only 4 hours left in the fast, orders pizza, and everyone starts eating. Anya, not knowing what to do, runs off crying. Holly J. follows, and Anya says that she wanted to be in charge of the fast so she could feel good about herself for once, because every time she was with Holly J., she felt bad, and she felt like Holly J. hated her because she never let her be happy and treated her like dirt. When asked why Holly J. treated her like that, she simply said "Because you let me." The next day, Anya tells Holly J. that she is tired of her putting her down and no longer wants to be friends. At this point, Holly J. tries to plead with her as she says Anya's her only true friend, but Anya says that Holly J. did this to herself. Holly J. then walks away hurt.
Season 8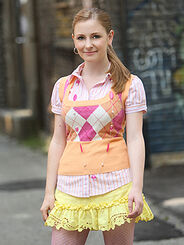 Holly J. becomes the captain of the newly named Power Squad and also becomes Student Council President. She has formed a "posse" with her old friend Anya, Leia Chang and Chantay Black. She has also begun to like Mia and even though she gets jealous of Mia becoming a model, she lets her on the Power Squad. In Fight the Power, when Jane became a part of the Degrassi Football Team, Holly J. defended her when the guys were making fun of her. When Danny, Derek, and Riley were wearing offensive shirts with the phrase 'Sorry I dropped the ball, it's my time of the month' and showed them to Jane, Holly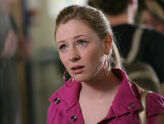 J. and a bunch of other Power Squad members come in and stick up for her by telling them to take the shirts off. Derek replies that she likes it when he takes his shirt off, and Holly J. responds that she doesn't know what's worse, the shirts or Derek shirtless.
In Didn't We Almost Have It All, Holly J. appointed herself Student Council President and Danny isn't happy about it. When Anya's not present at cheer practice, Chantay says she skipped to sleep with Sav. Holly J., feeling insecure about being the only virgin on the squad, decides on losing her virginity to new student Blue. They become partners for an art project and when alone, Holly J. proceeds to seduce Blue, but he rejects her and she walks away hurt. The next day, Anya says that she missed practice, because she was sick and denies having sex with Sav, making Holly. J relieved. When alone again, Blue says he now wants to have sex with Holly J., but she rejects him, just like he rejected her, since she now knows she's not the only virgin on the squad.
In Money for Nothing, Holly J.'s family is going through financial troubles (because her dad "made some risky investments," according to her mother). So her mom cuts her credit card in half. She had to give up Blue, and this also means she can't go on a $350 cheerleading trip to Florida, and on a date with Blue to a $125 concert. She doesn't want Blue and her teammates to know about her problem, so she lies to her teammates about going to a family wedding and tells Blue that she really didn't want to go with him, making him upset. Her teammates however, are OK with her not going, and Mia is made temporary captain, making Holly J. jealous. She then asks Spinner Mason for a job at The Dot to get money for the trip, lying by saying it's for college applications, and he says yes. Later that night, her friends come to The Dot and she continues to lie.
After Derek Haig insults Holly J. because she was not quick to give him his order, she pours his drink on him, causing Spinner to fire her. The next day at school, Leia tells Holly J. how Mia got her modeling job - by sleeping with football star Tom Blake. Holly J. then tells a news reporter about Mia's secret, and it's aired on the news. Holly J.'s mom then gives her a $350 check from Heather so that she can go on the cheerleading trip. She lets her team know, but all of them are mad about her trashing Mia's reputation. As a result, she is voted off the squad. She then tries to rekindle her date with Blue, who rejects her by calling her spoiled and selfish. She then goes back to The Dot to ask Spinner for her job back. This time she confesses the truth to Spinner about her money problem. After some advice and a mutual understanding, he gives her another chance.
In Lost in Love, at Spinner's party for police college, Holly J. tells Jane that he wasn't really accepted into the college, which makes Jane break up with Spinner. Later on, Holly J. decides to help Spinner win back Jane because she is tired of hearing him complain at work and also the break up is mostly her fault. She does this by taking him to the leadership conference where Jane is making a speech and makes him pretend that he's Barry Cohen, an author that hadn't arrived yet.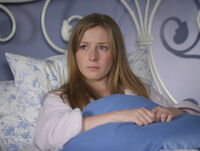 In Heat of the Moment, Holly J.'s watching the Power Squad practice, and Alli makes a snide remark to her while walking by with Clare. Holly J. tells her to "shut her loser, niner mouth," and Alli says that Holly J. is bitter about romance. Holly J. says Alli wouldn't know anything about romance, which makes Alli admit she's going out with Johnny DiMarco. Holly J. doesn't believe it, and goes up to Johnny and asks him in front of his friends, which he denies. Johnny then breaks up with Alli, and Alli snaps at Holly J. for ruining her relationship and that she can't be mean to her. Holly J. says she doesn't need a reason to be mean to Alli. Alli then starts a group on Facerange called "I Hate Holly J.," which many people sign up for. Holly J. sees the site, and confronts Alli, insulting her. Alli then sees threatening comments about Holly J. from people who had joined her group, and Bruce the Moose leads the whole cafeteria in chanting "I Hate Holly J." This causes Holly J. to storm out of the cafeteria, yelling, "like I care what you losers think!", and not return to school or work, because of fear of the growing hatred towards her. Alli's suspended from school and gets a juvenile record, after the Sinclair family calls the police for the threats on the hate group. Anya and Alli go over to Holly J.'s house, and Alli sees that what she did was wrong. A few days later, the group is deleted, and Alli apologizes to the school and Holly J., about her actions; however, Derek shows up and shows Alli the rope (in reference to the comment "Want to strangle her? I'll bring the rope" about Holly J.).
In Danger Zone, Blue asks Holly J. to the Black & White Dance, and as much as she wants to say yes to his offer, she defers, knowing that she might have a thing for her co-worker, Spinner. As they are about to close The Dot, a former Lakehurst student comes in with a gun and holds an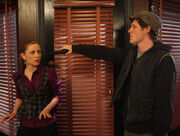 armed robbery. During the robbery, Blue shows up to The Dot and Holly J. answers, too scared for words. The door is foggy, so she writes the word gun on the door. Then Blue leaves. Blue ends up calling the police, and they arrive surrounding the vicinity of The Dot. Absentmindedly, the gunman ends up shooting Spinner, and Holly J. confesses that she is in love with Spinner (referred to as the idiot hero guy by Holly J.) thinking he couldn't hear her. She eventually calms the gunman down and walks out with him to the police. Spinner is rushed to the hospital. Holly J. soon visits him in the hospital where Spinner tells her that he's flattered but he and Jane are in a serious relationship. Holly J. ends up going to the dance, and everyone applauds her for being brave and getting the shooter to exit The Dot. She dances with Blue and apologizes to him. They move their relationship to being more than just friends.
In Degrassi Goes Hollywood, Holly J. makes a brief appearance at the Dot, when Spinner talks about Paige being his ex-girlfriend.
Season 9
In Just Can't Get Enough, Holly J. is shown with her new boyfriend as of the finale of last season, Blue Chessex. She is trying to organize the "Winter Beach Bash," but is overwhelmed with work. Blue tells her that she has a bad attitude (which she has been clearly showing in the episode), and she tells him he can't change her and he says "Goodbye, Holly," which is a sign that they have broken up.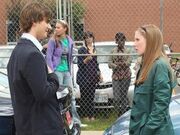 In Wanna Be Startin' Somethin', Holly J. and Jane pair up for a project since they were the only girls in the class. They decided to start a babysitting business when they notice that a lot of mothers need babysitters. They end up being really good friends. When Holly J. was texting and talking to Jane while driving, she accidentally hits the back of Declan's car. Declan deals with the situation in a sly way and says it's just a government car and when Holly asked to exchange insurance he claims that she was asking for his number. That causes Holly J. to develop a crush on him. One day when Jane said she would cover for a babysitter, Holly J. decides to surprise her, but she ends up seeing Declan and Jane kissing at the door. She later confronts Jane, telling her that she can only lie to Spinner so long since they work together. Holly J. advises Jane to dump Declan and choose Spinner. Jane takes her advice and ends her secret relationship with Declan. Jane and Holly J. decide to keep their babysitting business and continue their friendship.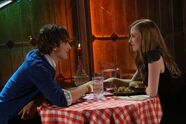 In Waiting For A Girl Like You, Holly J. is seen handing out Matchmaker forms. After flirting with Declan, he sets his sights high on her. He tries to woo her by putting a rose and magnet letters that say Friday on her locker. When she comes back from doing morning announcements she seems him leaning on her locker with his cellphone playing music. He asks her out but she declines. That leaves him desperate to find out information about her. In computer class they were learning how to make people profiles, so when it was Declan's turn he made a profile for Holly J. She liked it. When the results were delivered at lunch later that day Holly J. gets matched with Declan. He eats with her and tells her the story about him meeting the Dalai Lama. But when his girlfriend Trish, who he was about to break up with, finds out she then yells at him and tells Holly J. that he is probably going to tell her his made up stories to get with her like meeting the Dalai Llama. The next day at lunch Declan wanted to meet her in the Music Room. He locks her in the recording booth and he keeps her in there until she stops yelling. While, she is in there he tells her that she is the one girl that he really likes and wants to go out with. He then unlocks her when a student needs to use it. When she tells him that on Friday she'll have to babysit at the school, Declan surprises her there and plays with the kids. After, they go out for mushroom pizza and they share their first kiss.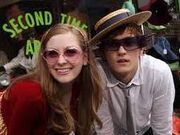 In Somebody, Holly J. gets a mentorship paper; she is happy and tells Declan. They decide to skip period 4 and take goofy pictures. But, when they're at the Dot he tells her that the judge is his mom. When Holly J. is being interviewed towards the end of the interview, she tells Declan's mom that her and Declan are dating. Declan's mom disapproves of it. Holly J. gets mad and walks out. But, Holly J. gets picked for the mentorship at the ceremony, and she is standing proud and proper. But then Declan pokes her from behind the stage and she goes behind the stage. They then start flirting, and then begin making out. He then unbuttons her dress halfway, and they start really kissing. But when Holly J.'s name is called, they pull the curtain and take a picture of her with her dress halfway unbuttoned and her hair messed up. She is extremely embarrassed.
Ms. Hatzilakos, Mrs. Coyne, and Mrs. Sinclair have a meeting with Holly J. and Declan. They all agree that Holly J. and Declan shouldn't see each other. But Holly J. wants to go out with him still so she confronts him and tells him that he should've opened his mouth, since he still wants to be with her too. They get caught together again, and they have another meeting with Ms. Hatzilakos, Mrs. Coyne, and Mrs. Sinclair. They are very surprised, and they still don't want them to go out. This time Declan stands up and says that they will be together, no matter what. Then he and Holly J. storm out of the office, and Declan picks her up and spins her around, kissing her.
In Heart Like Mine (1), Marco and Holly J. seemed to be on friendly terms, as Marco was comfortable enough to discuss shared interests with Holly J. and call her "HJ" as a nickname. However, Holly J. and Declan used their connection with Marco to get an extension on an essay, which did not sit well with Marco, as his evaluation as a student teacher by Dom Perino was in jeopardy if he did not stand up to his students. After Marco cracked down on Holly J., it can be assumed they are no longer friends, as he said "It's Mr. Del Rossi to you", and he appeared rather annoyed with her, even though Holly J. did manage to turn in her essay on time.
In Heart Like Mine (2), Holly J. is seen making the morning announcements. She seems very jolly and happy.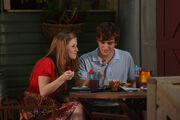 In Holiday Road, Holly J. is happy to see Emma back at Degrassi. She questions her about Smithdale University because Smithdale is a choice for her, but Emma quickly changes the subject and walks away with Kelly. At the end of the episode, Holly J. talks with Emma and Spinner. She tells Emma that she'll be fine no matter what she does. Later on, when Emma is about to leave she tells Emma that she hopes to see her again. Emma thanks Holly J. for all she has done and told her that she is a good person. She also asks her to keep in touch, to which Holly J. responds that that's what the internet is for. Holly J. concludes and really thinks that Smithdale is a top choice for one of her colleges.
In Start Me Up, Peter interrupts Holly J. during the morning announcements and she gets stunned. She is surprised that he is really peppy. When Peter tells the kids on the announcements to go to "Above the Dot." Holly J. just rolls her eyes and continues.
In Why Can't This Be Love? (1), Holly J. sets up for the prom and gives advice to Anya who is worried that Farrah will steal Sav away. She goes to prom with Declan and has a good time dancing and having fun. The next day, Anya confronts her about the unprotected sex, and Holly J. tells her that there was a condom machine in the bathroom. she is taking the pill and she doesn't have to worry. But, Anya tells her that she isn't taking the pill. Holly J. is shocked and doesn't know what to tell Anya.
In Innocent When You Dream, Holly J. turns out to enjoy "Madame Degrassi's" fan-fiction posts. Holly J. tells Declan about the posts. She then finds out Clare kisses Declan on the neck and warns her politely to keep off. She reveals that Clare is a very good writer and says if it stops her from wanting to kiss Declan then she should continue.
In In Your Eyes, Holly J. is seen working at the Dot. She gives Clare a decaf green tea when she orders it.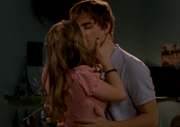 In Keep On Loving You, Holly J. and Declan feel it's time to have sex since they've been going out for 3 months. Before making love, Declan gives Holly J. his grandmother's special bracelet. Holly J. is touched and tells him that she loves him. Declan doesn't say it back, but they still sleep with each other.
The next day at school, a concerned Holly J. confronts Jane about Declan not telling her that he loves her. Jane tells Holly J. that she doesn't have to worry about it, and that she's sure Declan loves her and he'll tell her when he's ready.
Later, when Declan is walking to play practice, Holly J. talks to him and asks him if he loves her because he didn't say it back. Declan tells her it's not that simple and Holly J. begins to panic. Meanwhile, at play practice Fiona comes to see Declan. Declan tells her that he is nervous to tell her since last time. Fiona tells him that he's a silly boy.
The next day, Holly J. sees Fiona in the school library and tells her that Declan gave her the bracelet and she wants to give it back because she told him she loves him and he didn't say it in return. Fiona laughs and tells her that it's her and his grandmother's bracelet and Declan only gives it to the people he truly loves.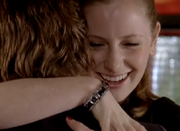 Holly J. asks why he couldn't say it then. Fiona tells her that Declan had a true love and he told her that he loved her and she cheated on him, he doesn't want that to happen again. Holly J. anxious grabs the bracelet and goes to find Declan. When she finds Declan, they talk and make up.
Later on, after finding out that she and her brother are going to move back to Manhattan an excited Fiona tells Declan, who is upset and doesn't know how he's going to be able to tell it to Holly J.
Later that day, Holly J. sees Fiona's Facerange status and realizes what is going on. The morning of the play Declan and his mom are talking and Declan tells her that he loves the school and doesn't want to leave it. Holly J. over hears this while walking in. Crushed she asks Declan's mom if she can visit. Mrs. Coyne reluctantly says she can visit all the time. Before, directing the play Declan hacks Holly J.'s email account and emails a Manhattan internship Holly J.'s mentorship video. They like it and text Holly J. about an internship in Manhattan over the summer. She is excited and even more so when she finds out Declan is responsible for this.
In Degrassi Takes Manhattan, Holly J. is excited to be off to another summer vacation. But, this time with her boyfriend Declan. After, school is finally let out, Declan invites everyone over to his house for a pool party. Spinner attends, and while Holly J. and Jane are changing he overhears them talking about how breaking off the affair with Declan helped her because Declan is her love. After, walking out Spinner goes insane and breaks up with Jane, tells Holly J. to shut up and punches Declan. While, trying to cheer Jane up Holly J. also needs to help Declan out too. Seeing Jane so glum, Holly J. asks her to go to Manhattan with them for the summer. Jane says yes. The next day they're off and they go to Manhattan. When they get there Holly J. is surprised on how big their Manhattan home is. After, they leave Fiona off at the house, because she's tired and doesn't want to move, and they go site seeing and shopping. Later, Declan and Holly J. have reservations for a restaurant and Fiona seems to be a little jealous.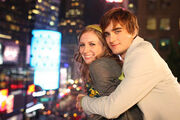 The next day, Holly J. is walking in the city to go to her TVM internship, and she walks into Jay Manuel who gives her good advice. After, she goes in to see that her boss, Kristin. She decides to make the most, of it and introduces herself to her, she gets a clever nickname, Initial because Kristin likes the J in Holly J. She also is given a banana each day because Kristin loves potassium. A few moments later, Holly J. learns that Declan and Fiona are the city's power siblings after Fiona stops by at TVM to say hi, and get an internship too.
The next day, after finding out that Jane has become the lead singer of the hit band, Flashin' Midnight, Holly J. is asked to do research and stay late at TVM. She does so and ends up not going to the opera with Declan. To only find out that he went with Fiona. The next, day at work, Holly J. is talking to Fiona and then Fiona gets mad and tells her that this is her city and she owns this, and she put up with her at Degrassi for too long. They get into a little tiff, and while walking in the hallway, Holly J. tells Fiona to look away, and then she locks Fiona in the copy room.
That day, while after interviewing Jane on the show, Holly J. notices that Fiona is all distraught and managed to get out of the copy room. But, then she sees her on the phone and soon Declan shows up. Holly J. tries to tell Declan that Fiona started it, but Declan didn't understand why Holly J. did that to his sister. Walking away, Fiona gives Holly J. a mysterious glare.
Later on, Declan sits them both down and tells them that they need to make up because he wants to spend the whole summer with the both of them. They sort of make amends, and Fiona hugs Holly J. Fiona then suggests that they have a party so Holly J. can meet some of their New York friends. So they do so, that night Holly J. comes down the stairs in a stunning dress, and is ready to party. But, Fiona then introduces her to Declan's past girlfriends, and they tell Holly J. that Fiona likes Declan single, and that their relationship won't be much longer. Holly J. is upset, but Declan proves to her that he is in love with her by making out. Fiona is jealous again, so she pulls Declan away from Holly J. While drunk she makes a scene, and Holly J. is annoyed and tells her that her jealousy is quite inappropriate. Fiona tells her you want inappropriate, and kisses her brother Declan. Everyone is shocked, and Fiona faints, Holly J. is furious and she is tired of coming second to Fiona, so her and Jane stomp out, and Fiona gives Holly J. another mysterious glare.
The next day, Declan tells Fiona that there is something wrong with her and that she is so jealous to a point it's weird. She then breaks down telling Declan that he is so inconsiderate, but then he tells her that he can't have the summer with her being jealous of Holly J. and him, so he tells her that she's going to the Hamptons with their Aunt Kate. Fiona then tells Declan that she hates him. Declan apologizes to Holly J., by going live on air at TVM while Holly J. is listening, and then Holly J. turns around to find Declan, asking for another chance. Holly J. says yes and their love is restored. Jane then finds them and tells them that Spinner is getting married to Emma, and that she wants to get there before it's too late, and that he's making a big mistake. Holly J. and Declan are up to take Jane there, and they zoom there as fast as they can, leaving Manhattan for now. While, stopping for gas, Declan and Holly J. feel this is too crazy, so they stall. While, playing baseball, Jane is frantic, so she takes the car and leaves Declan and Holly J. behind. Holly J. and Declan are upset, but end up taking a ferry to get to Toronto. Emma is actually to see them and invites them to come to their wedding party. They party it up and go back to Manhattan. Fiona is just leaving Manhattan to go to the Hamptons with her mom.
Season 10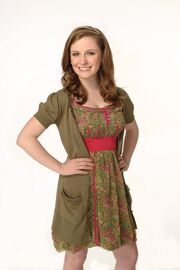 In What a Girl Wants (1), Holly J. isn't ready to leave her boyfriend Declan in New York, after throwing a huge goodbye party, courtesy of his mom, Holly J. tries to enjoy her last few hours with Declan. Especially, since Fiona has come back from the Hamptons full of energy, and normal. When it's time for Holly J. to leave, Fiona tells her that they can be great friends in the future and hugs her, also before saying goodbye to Declan, she tells him only 8 months away until it's the summer time again, and then they can go to Yale and finally be reunited. Then she has to say goodbye to Declan, they make out and Declan gives her an SAT practice book. Arriving back home, Holly J. calls her mom to tell her everything is all right, she makes a side on her dresser for a picture of her and Decs, and her SAT book. Then, she notices something, huge boxes. She video chats with Declan until her mom comes home, and interrupts, she tells him good night and closes the screen. When she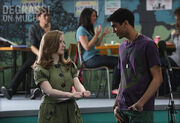 asked her mom what's the deal with all the boxes, she tells her that the insurance lost most of their money and they have found an apartment up the block. Holly J. asks about her college money for Yale, her mom responds by telling her that they lost that too, Holly J. is upset to fullest point.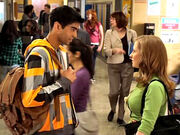 At school the next day, Holly J. is walking into school getting prepared for her election, in which she'll probably win. But, Sav confronts her and tells her that he's running too, Holly J. is pissed. At lunch they each say something, and after Holly J.'s little announcement, Sav gets up and announces he's running too. After, Anya bumps into Holly J. at her locker, and they begin to talk about how Sav is ruining everything, how Sav ruined Anya's relationship with him, and didn't care how she felt, and how Holly J.'s school presidency is in jeopardy because of him. In the last scene of the episode, Holly J. confronts Sav and tells him he's a bigshot, because soon he'll be entering fatherhood, looking confused Sav is nervous, Holly J. tells him it's alright Anya told her everything.
In What a Girl Wants (2), Holly J. confronts Anya in the beginning of the episode telling her to fake a pregnancy because she fooled Sav, and this will probably make him drop out. She also tells Anya that she only has to pretend until the election is over. Anya agrees to the idea.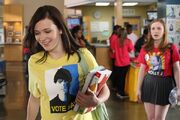 Later on, Holly J. gets a video call, and answers thinking it's Declan, so she starts talking sexy, but then sees it's Fiona. Fiona tells Holly J. that her relationship with Bobby is horrible, and if she tells people about it they'll think she's a drama queen, they're interrupted by Anya coming in, Holly J. tells Fiona she has to go, but if she needs anything, just call her. Anya tells Holly J. she's going to continue faking the pregnancy despite her text. Holly J. is surprised. Anya also tells her that she wants to because Sav is falling for her again, Holly J. is happy for her but tells her what about when it's time to have the baby, Anya tells her then she'll have to fake a miscarriage. Holly J. tells Anya she's dark, and they continue to talk.
The next day at school, Holly J. is handing out voting fliers for her campaign, when she sees Anya walking with Sav wearing a "Vote 4 Sav" shirt, Holly J. is pissed beyond belief and wants some revenge.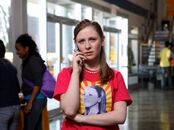 In Breakaway (1), Holly J. while prepping for the election gets a call from Declan saying that Fiona isn't being normal, Holly J. tells him that he needs to trust her and be there for her since she's his sister. Before, the election Fiona comes to Degrassi and surprises Holly J., they go to the Dot, and Fiona tells HJ what happened, also, Holly J. confronts Anya about Sav saying that she backstabbed her and that she supposed to be on her side, Anya tells her that she changed her mind, and that Sav is all hers now. At the election Holly J. basically says she wants to be all about education, but Sav's speech was about being fun and full of life. He also lies and tells everyone that he is going through a tough time with being an upcoming father. Later in the episode, Sav wins the election because of lies and Holly J. is upset.
In Breakaway (2), Holly J. upset about the election she just lost, Ms. Sauve tries to help solve her hard times. She gives Holly J. SAT pamphlets, but the problem is that they are very expensive, and she can't afford them. When she gets home from school, she researches them on the website, and then her mom came in to cheer her up. She told Holly J. that she can get into a better college, and she has to stop thinking about going to Yale, because she is very smart and that there are other people who would die to have Holly J.'s life.
The next day, Fiona comes back to Degrassi to hang out, and tells Holly J. that she's getting a condo, a few blocks away. Fiona is on a ordering catalog website, and buys a drawer/desk for her plasma screen TV. Holly J. is amazed how she can spend $4000 instantly over the internet. When she then mentions it, Fiona just shrugs her shoulders like it's now big deal and claims it's almost as much as her boots. Fiona realizes her old account still works and says she needs a new password. Fiona says her new password aloud as she typed it in her computer, she feels since they're friends they can trust each other. Holly J. considers using the password, but knew she wouldn't betray Fiona. That night, Holly J. is chatting with Declan about her misfortune and that there is other colleges out there besides Yale. When they exit the chat, Holly J. goes on the site, and logs in as Fiona. She buys the SAT tutor with Fiona's money, and sends it as am email transfer.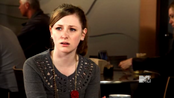 The next day at school Fiona doesn't really notice anything, and she tells Holly J. that she's enrolling at Degrassi tomorrow, and that she wants to have lunch at the Dot. At lunch, Fiona is on her laptop and notices that there was a directly sent email for $2000, on an SAT tutor, she asks Holly J. how much the tutor was, and then realizes Holly J. went on as her and stole money. Fiona is upset and doesn't understand why she is being used since she came back to Toronto because Holly J. is her only friend. The next day Fiona is back at Degrassi, and Holly J. meets her at her locker, she apologizes and says that she would never do a thing like that again, and they're both lacking in the area of friendship. Fiona turns around and tells her that the only way she will forgive her is to be her best friend, and give her 200 hours of every moment together, like sleepovers and classes. Holly J., says yes, and they walk down the hallway holding hands.
In Try Honesty (1), Holly J. is asked by Declan if she wants to on a road trip to Yale University, but she is unable to go because she is too busy with school work and she can't pay for the last minute airfare. While in math class Fiona asks Holly J. if she wants to go shopping after school, but can't because she has a job interview. Holly J. later decides to go shopping with Fiona after the interview and uses her emergency credit card. When they arrive at Fiona's condo, Holly J. uses her laptop to e-mail Declan. Upon seeing that he is not online, she goes to his profile and sees pictures of him with a girl named Tinsley and begins to get suspicious.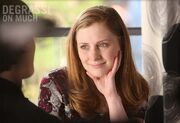 Later, she e-mails Declan to tell him that she decided to go on the road trip with him. While looking at flights online, Declan calls her and he tells her that may not be such a good idea for her to come and that she shouldn't waste the money. He then hangs up and goes off with Tinsley to fencing practice. Shocked she closes and laptop and says he's cheating on her. Later, Holly J. tells her mom about Declan cheating on her and that she isn't sure she wants to go to Yale anymore. Her mom comforts her and tells her that she's should go to Yale but for her education, not to live out her fairy tale fantasy. That night she calls Declan only to get his voice mail. She decides to leave him a voice mail telling him how she feels and that she can't handle their long distance relationship and breaks up with him. The next day, when she is supposed to meet up with Fiona at The Dot before school, she arrives to find Declan there to surprise her.
In Try Honesty (2), Holly J. and Declan sit at the Dot and talk. Declan tells her how he didn't want her to go to Manhattan on the trip because he and Fiona planned for him to come visit. Holly J. is happy and explains why she thought he was cheating, and to ignore her voicemail she left. Declan didn't know about the voicemail because his phone was off so he checks it, after hearing it, he laughs and they continue to talk. On a taxi ride to school Declan tells Holly J. he missed her and Degrassi, and Vanderbilt Prep isn't the funnest high strung school, it has a lot of competition. He then gives Holly J. a necklace.
At school, Holly J. and Fiona talk about how the whole thing was a big misunderstanding, and how Declan is back and everything is okay. Chantay tells Holly J. that her and Declan are too obsessed with each other, but Holly J. and Fiona snap back at her and tell her that she doesn't have a lover so she shouldn't be talking. At home Holly J.'s mom sees the necklace and thinks she is shopping again, Holly J. tells her she isn't and tells her that Declan bought it for her. Her mom tells her that Declan shouldn't be buying her love, to make her stay with him. Holly J. tells her he isn't and is convinced.
At lunch the next day, Declan surprises Holly J. and he sits down with her, despite Chantay's crabby mood, Holly J. ignores her and talks to Declan. He brings up her financial problems, and brings a vision in her mind that he's buying her love, and helping her too much, since he tells her he can help her with her money, she starts getting the impression that her mom was right, she gets pissed. She yells at him and he leaves.
A few days pass and while in a taxi cab with Declan, Holly J. starts to lose her mind when he continues talking about buying her stuff. He is confused, Holly J. tells the driver to stop driving, they fight; she tells him that she feels gross, and that she also feels as if he's buying her love. As they continue to fight, Declan tells the driver to start driving. Holly J. is mad and tells him to stop again, then gives Declan the necklace and tells him they should take a break from each other. They both start crying.
Later on, Holly J. re-applies for the job, and she sees Fiona. Fiona wants to be her first customer, Holly J. mentions the fight to Fiona and asked her if she knew, and she tells Holly J. Declan called her in tears from the airport. Fiona tells Holly J. that no matter what they will always be friends. Fiona asks what is good on the menu and Holly J. gives her some options, Holly J. asks how she's doing and Fiona replies with "I'm buying it."
In You Don't Know My Name (1), Fiona wakes up Holly J. when she comes in and notices her sleeping on the school lounge couch. Holly J. states that she forgot her combination due to lack of sleep. She's stressed because of her recent breakup with Declan and has a blemish on her face. Fiona gives her a Xeno HotSpot, to help the blemish go away. Fiona tells her, that her and Declan will be okay when they reunite for Yale, but Holly J. isn't sure if she wants to get back with him. Later, Holly J. goes for a student council meeting with just her and Sav, Mr. Simpson walks in to tell them he has to cancel the "Band Slam," upset Sav and Holly J. don't know what to do. Holly J. then gets the idea for a Hoedown Throwdown Dance, they can have it at Above The Dot and they can ask Peter to help them. They'll need balloons, snacks, etc. Sav also apologizes for her and Declan's breakup, she says thank you. Later after making the phone calls for the supplies, Holly J. and Fiona are walking in the halls. Sav catches up with them, and hears them still talking about Declan, and her blemish. Sav tells her that he thinks her blemish is kinda cute, and Holly J. blushes. He walks away and Fiona tells Holly J. that her and Sav would be a cute couple, but Holly J. doesn't think so. Later Holly J. and Sav have another meeting and they begin talking, but Holly J. and Sav make arrangements to hangout while she's working, Sav says his parents will let him have free snacks, if it has something to do with student council, after Holly J. jokes around like that. Sav goes to were Holly J. works and they have a good time. Later on, Holly J. goes to the student council room to see Sav blowing up balloons. He told her he made a mistake ordering them, and she helps him blow them up. They goof off for a while by breathing in the helium and talking like chipmunks. Sav mistakes the mood for a romantic one, and kisses her.

In You Don't Know My Name (2), Sav reveals to have feelings for Holly J. However, she doesn't like him back, or at least that's what she tells Fiona (as she also tries to convince herself). She soon can't deny that she likes him, while at the same time she's not over Declan and Fiona's there to constantly remind her of that.
Sav and Holly J. come to the conclusion that they can be together no strings attached. Sav and Holly J. Then agree they should keep their relationship a secret in respect of Anya who will be heartbroken if she knew.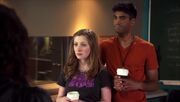 In My Body Is A Cage (1), Anya has just been informed that her mother may have cancer. Leia tries to make Anya feel better, but Holly J., who isn't aware, ruins it. Holly J. asks what's wrong and Anya admits that she hadn't started on her share of a project that they were working on with Sav. Holly J. is angry and Anya says she will do it to help, but Holly J. notices how upset she is and insists she will do it. In spite of her unawareness of the real issue, she calls Sav believing Anya knows what is going on between them and tells Sav this is one of the worst things that can possibly happen to her.
In My Body Is A Cage (2), Anya is at school and calls Holly J., asking where she is and that she though they could work on their project together, until walking into the classroom and seeing an already-built project, a replica of Pompeii and the volcano. She angrily presses the red button on the project. The volcano releases smoke and red liquid and Anya sprinkles ash. Holly J. and Sav look angrily at Pompeii, which has been covered in fake ash and lava. Holly J. declares it a disaster and yells at Anya for jeopardizing their grade. Holly J. claims she's overreacting and Anya scoffs an leaves, with Holly J. following. Holly J. says that she can't believe Anya would do this over something so stupid. Anya asks what she's talking about and Holly J. states she did it because Sav and her are dating. Anya says that her mother has cancer and Holly J. comforts her and convinces her to go to the doctors office for her mothers appointment. Anya arrives at the doctors' appointment just in time; she learns that her mother will be just fine and make it through because they caught the cancer in time.

In Purple Pills (1), Holly J., Fiona, and Sav decides on a new school event before the break. With the help of Fiona, they decide to have "A Night in Vegas" event at their school. She is seen walking down the street with Fiona, discussing Fiona's legal case against Bobby. She couldn't attend the PTA meeting, because her job requires her for a later shift, so she leaves the task up to Fiona. She arrives late at the meeting, where she finds a drunken and corset-wearing, Fiona, who was presenting their idea of "Night in Vegas." Holly saves their presentation by presenting her own materials, and the school board decides to approve the event, due to Holly J.'s plan.
In Purple Pills (2), Holly J. is seen taking an exam with Fiona. She later find out about Fiona's obsession with alcohol, and that she hasn't been taking prescribed medicine to help her deal with her stress. She encourages her to fight back against all the abuse, not just for her, but for others who are in the same situation.
In All Falls Down (1), Holly J. is seen at the entrance inside the school setting up for A Night In Vegas. Fiona confronts her and Holly J. says she can't believe Fiona is missing Vegas Night. When Fiona was ready to leave she gave Holly J. the bag and told her it is in case she needed something to wear tonight. Holly J. thanked her but told her the corset was staying in the bag. Holly J. is soon after seen with Sav talking to Mr. Simpson about how it wouldn't be fair to cancel Vegas Night because of some jerk who set off a stink bomb. Mr. Simpson agrees and Holly J. and Sav are excited Mr. Simpson did not cancel A Night In Vegas.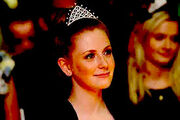 In All Falls Down (2), Holly J. and Sav are seen welcoming everyone to the A Night in Vegas event. They are seen flirting with each other at an empty conference room, where Holly J. stacks up drinks against a table. She is impressed with Sav's song, which was written for her. She later tells Sav to meet her in the Drama room at 10 P.M. Holly J. proceeds to give Sav a strip tease and a lap dance, before kissing him. The police catch them together, and they are escorted to the entrance, where they meet an anxious Mr. Simpson. Holly J. tries to convince Mr. Simpson that she is sorry, but he does not listen to her.
In Don't Let Me Get Me (1), Holly J. and Sav are seen apologizing to Mr. Simpson for their actions on Vegas Night but Mr. Simpson seems unlikely to accept it. They continue with their morning announcement, and Holly J. is heard talking about the new policies that were in place.
In Don't Let Me Get Me, Holly J., Sav, and Alli are seen discussing Alli's situation when Holly J. points out that Bianca didn't force Drew into the boiler room and Sav says that if it wasn't Bianca, Drew would have cheated with someone else. With this in mind, Alli makes the difficult decision to leave Degrassi.
In Love Lockdown (1), Declan and Fiona are back from New York, and Declan has been nominated for an award in the Grundy Awards. He notices Holly J. at the front entrance. Holly J. is surprised to see Declan back. He wants to go to lunch with her which Holly J. accepts. Later, Sav and Holly J. are walking in the hallway when he tells Holly J. to spend time during lunch with him to prepare for the Grundy Award. Holly J. says she is having lunch with Declan. Sav looks surprised and warns Holly J. that it might be Declan's ploy to get her back. Holly J. promises Sav that she's happy with him and has no intention in getting back together with Declan, and that he is flying to New York the very next day. Holly J. then kisses Sav on the cheek and they walk together.
Later during lunch, Declan tells Holly J. that he took what she said about him using money to fix his problems to heart and has started a charity for kids. Holly J. reveals that she is in a relationship with Sav and that they will end it after there graduation.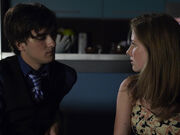 That night, Sav accompanies Holly J. to the Grundy's and Declan comes and takes the seat next to Holly J. from Fiona. Later Declan won a Grundy and is dedicating the award, and apparently his entire life, to Holly J. The Coyne's throw a party back at Fiona's condo and Holly J. and Sav agree to go. Declan has a plan to get Holly J. away from Sav and it comes in the form of playing with an iPad. With Sav distracted with his fancy toy, Declan makes his move and tells Holly J. that he loves her and wants her back. Holly J. tells Declan that she's happy with Sav and doesn't want to be back together with Declan. Declan tells Fiona that his plan didn't work. All of a sudden Fiona goes from sober to drunk in one sip. Holly J. stays to help take care of a drunk Fiona, giving Declan a chance to make his move.
Later after putting Fiona back to sleep, Declan goes on kissing Holly J.'s neck, but Holly J. seems to be denying him and says "We shouldn't be doing this." Declan ignores her "No" and "We shouldn't be doing this" and continues kissing her, and she eventually kisses back.
In Love Lockdown (2) , Holly J. and Declan just finish having sex, and Holly J. is putting her clothes back on. After talking for a bit and exchanging hugs, Holly J. proceeds to go home, but before doing so, she sighs in sadness and regret because she cheated on Sav. Sometime during the next day at school, Fiona asks Holly J. about what happened last night. Holly J. confesses that she felt pressured into having sex with Declan and she truly didn't want to do it with him, and that she regrets everything. While at work, Holly J. is visited by Declan, who heard from Fiona that she actually didn't want to have sex with him the previous night. Declan thinks that Holly J. thinks he raped her, and Holly J. says that that isn't the case. Holly J. tells Declan that she was confused but Holly J. continues to try to get him to leave. After following her around the restaurant, still trying to talk to her, Declan finally leaves.
The next day Holly J. is confronted by Sav, who is worried about Holly J. She assures Sav that she's fine, and that she'll catch up with him at Physics. Holly J. goes on the computer and then discovers that she made it into Yale. She walks out of the room and meets Fiona there. Holly J. asks where Declan is and Fiona, coldly says that she thought Holly J."didn't want to talk to Declan anymore." Holly J. said that wasn't the case, and that she wanted to talk to him, just not at her job.
Later on, she visits Declan before he leaves to go back to New York. She announces that she's going to Yale, and that they'll both be seeing each other considering Declan will be attending Yale as well. Declan apologizes to Holly J. and tells her that he's sorry for what happened. Holly J. gives him a final goodbye, for now, and walks out the door, leaving a sad Declan, watching Holly J. as she walks out.
In Umbrella (1), Holly J. is seen during the morning announcements with Sav.
In Halo (1), Holly J. is first seen doing the morning announcements. She is later on seen setting up the Make a Wish event in the gym, and Jenna comes to help her. Jenna asks Holly J. her honest opinion on Sav. Holly J. tells Jenna that Sav is a dork in the best way possible. She also goes on to list more amazing qualities about Sav. She says that he's cute and caring, even when you do the wrong thing. Jenna says that they must know a lot about each other, and Holly J. tells Jenna that that's what happens when you work on Student Council together. Jenna also asks Holly J. about what happened with Anya when she got pregnant, and Holly J. tells her that Sav was 100% supportive of Anya's pregnancy. Jenna says he must have been devastated about her miscarriage, and Holly J. says it was such a tragedy and that he probably would've made a great dad. She then walks away to resume doing her work.
Later on, after Jenna kisses Sav, Holly J. calls him for help. Before the episode ends, Holly J. is seen cleaning up in the gym. Jenna tells Holly J. that she has a crush on someone, and Holly J. asks who. Jenna admits to liking Sav, and Holly J. is in disbelief. Holly J. tells Jenna that her and Sav are going out, and Jenna tells her that Sav is into her, and not Holly J. Holly J. steps off her ladder and tells Jenna that just in case she hadn't noticed, she's pregnant. Jenna tells her that it doesn't matter, and Holly J. tells her that her prenatal vitamins are getting to her head. Jenna tells her that she doesn't know her very well, and getting rid of "insignificant, temporary girlfriends" is kind of her thing. Holly J. tells her to save herself the embarrassment because Sav will never go for her. Jenna tells her that she'll just have to wait and watch.
In Halo (2), Holly J. is seen sitting with Sav at a picnic table while smitten Jenna stares over at the pair while talking to Chantay about her sixth sense. Jenna yells for people to purchase a wishing star and Holly J. and Sav look at her awkwardly.
Later, Sav explains the situation between him and Jenna to Holly J., who was confronted by Jenna after she had kissed Sav. He explains that he is in no way interested in her and that she took it the wrong way, Holly J. laughs it off telling Sav he is a good person for admitting what happened between him and Jenna, even if it wasn't the least bit serious. She then admits to Sav about what happened while between her and Declan while he was visiting but she tells Sav it was a mistake, a massive one but he tells her that mistake sex doesn't just happen and he ultimately breaks-up with her which leaves Holly J. feeling upset and guilty.
Later, Holly J. is seen at Little Miss Steaks delivering Anya and Wesley a plate of cheese sticks telling them to not choke on them. Both Jenna and K.C. arrive at Little Miss Steaks later on because Jenna feels bad about causing a riff between Holly J. and Sav, so she wants to get them back together. Jenna screams at Holly J.'s boss, begging him to let Holly J. off of work early so she can go to the secret party where Sav is DJ'ing. Holly J.'s boss gives in quickly and lets her leave early, they rush outside into Wesley and Anya's limo as they agree to drop them off at the secret party, which they were originally planned to attend.
When Holly J., Jenna and K.C. arrive to the party Jenna fakes going into labor, and K.C. jumps out of the limo and alerts Sav and tells him to get to the limo quickly. When Sav enters the limo Jenna is yelling "Uh, you're having a baby!", Jenna quickly drops her act, says no and then quickly leaves the limo. Sav all alone with Holly J. who tells him to stay. Holly J. then explains to him about how she felt in her relationship with Declan, telling him she felt like she was playing a princess role and that she had to put so much pressure on herself to be someone she thought she had to be. But she tells Sav that with him there is no pressure at all, and that it took making a huge mistake to realize that he comes first for her at the moment, it falls silent in the limo. They have left the limo and seem to be walking collecting their thoughts when Sav confronts Holly J., he tells he that when he heard she cheated their casual relationship did not seem only casual anymore. Holly J. asks Sav if he thinks they can go back to the way they were, and Sav tells her he needs to test that out with a kiss. He kisses her, signifying a rekindled relationship between the pair.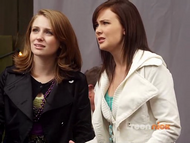 In When Love Takes Over, Anya meets up with Holly J. in the entrance to tell her that she will know if her mom is cancer free or not. Holly J. give her flowers. Later Holly J. shows up at Anya and Dr Chris date night and she reminds Anya about her curfew she quickly. Holly J. tells Dr.Chris to pay at the counter and therefor ending the date. Later she also walks into Fiona's apartment when she sees Fiona and Adam making out.but unfortunately not surprised to see Fiona drunk. Fiona tries to play it off like she's fine, but Holly J. warns Adam to watch Fiona and make sure she doesn't go too far. Later, Holly J. is seen at her locker worried about Fiona's continuous drinking habit. Holly J. finds Adam later that day and tells him that she and Mrs. Coyne are staging an intervention for Fiona that night and that she wants Adam to come. Later when Adam realizes Fiona is going too far with her drinking he calls Holly J., deciding that she's right about the intervention. Later Holly J. shows up with a note that she found in Fiona's room and gives the note to Adam.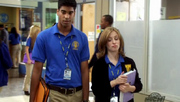 In Jesus, Etc. (1), Holly J. is seen studying when Sav is playing the guitar. She tries to comfort Sav and advises him to get a drummer if he really wants to go a music program, and they kiss. Later she and Sav walks by a telephone booth. Sav complains about all the drummer being horrible except for Drew. Holly J. asks if he can programs drums, Sav tells her for live musical demo he can't. Sav brushes off Alli's concern over Drew and he goes onto phone Drew instead.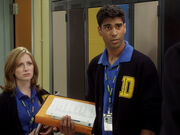 In Jesus, Etc. (2), at school, Sav can't seem to concentrate. Even Holly J.'s talk of bikini's and lesbians can't get his attention. When she finally gets his attention Sav tells her about Alli's disappearance and that she is just being a drama queen, Holly J. tells him it may be more than that. Mr.Simpson then tells Sav that his mother needs him home right away.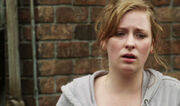 In Hide and Seek (1) Holly J. is seen sleeping on one of the keyboards when Grade 10 arrives for their media immersion class. Chantay wakes her up. Holly J. is surprised to see all the seniors left the class early. Chantay tells her its time already History. Later in the media immersion class, Ms. Oh asks a question to Holly J. but she couldn't seem concentrated on class or her work. After the class, Sav keeps her posted about Alli, while Ms. Oh tells Holly J. that she's stressed and distracted, and tells her to focus on her priority. At the Counselor's office the next day Holly J. and Chantay find out that they have to 10K run that afternoon. At work that day Holly J. can't seem to get her energy level up and almost passes out on the waitress next to her. The waitress tells her to go home. Next day, Holly J. is looking up at her evaluation form as it looks like she got an average to a good score. Sav walks in and tries to talk Holly J. out of the run since she looks horrible and can't keep her eyes open, but Holly J. refuses. Even with the cough she can't seem to shake she refuses to miss the run and a chance to impress Counselor Greyson. At the run Holly J. is feeling even worse and is about to back out when Counselor Greyson tells Holly J. and Chantay that she's running for Mayor this summer. If they continue to impress her, then they have a shot at summer jobs. Holly J. can barely finish the race. Chantay asks Holly J. if she's pregnant and Holly J. says no. This then leads to her accusing Chantay of trying to make Holly J. look bad in front of the Counselor. Holly J. got her period, so she knows that she'd not pregnant. Chantay then asked if her and Sav are sexually active and Holly J. says, "No, not Sav." Holly J. survives the run, but barely. She can't pretend that everything is okay anymore, but tells Chantay that if something has happened to her and that she's really scared about it.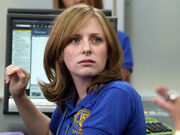 In Hide and Seek (2), Sav walks into a classroom to see a tired Holly J., who was looking up her symptoms online. She quickly closes out of the website she was on when Sav approaches her. He looks concerned when Holly J. continues to ignore her symptoms and continue with her hectic work schedule. Sav advises her to go to a doctor once more, but she tells him she will go later. During her and Chantay's presentation about their work study, Holly J. begins to wander away from the group, falls down, and hits her head on the table. She wakes up in the emergency room where she is told to stay while some tests are run on her. Determined to get back to work, Holly J. escapes from the hospital. While performing the presentation at her work study, Holly J. cannot hold her bladder and urinates on herself. Chantay covers her up, and both girls quickly exit the room with Holly J. extremely embarrassed. She calls her mom to send her to the hospital where she learns that she had an untreated case of strep throat which led to some serious Kidney damage. It's then realized that Holly J. is now very sick and will need dialysis. She stays in the hospital for a while where her boss tells her that she will be have a summer job guaranteed. Sav then asks will she get better, but then restates his statement by saying she will get better. He kisses her on the forehead and she smiles.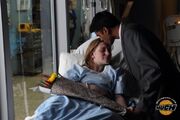 In Drop the World (1), Holly J. is seen with Sav outside the school playing Boggle. At the end of their game, they reveal their words, but Holly J. seems bored. Later in class, she writes a Pro's and Con's list about Sav: 4 pros and 1 con: not feeling it (i.e. love). Anya and Fiona walk in and read her list and Anya tells Holly J. to end it with Sav.
Fiona comes out to Anya after Holly J. makes a comment about lesbians. Holly J. goes to the Dot to see Sav working on his application for university. She asks him why he likes her and what he felt when she was in the hospital. He said that he didn't want to see her hurt and shows how much he cares for her. Later, Holly J. is hanging flyers for the Spring Fling when Anya comes in and finds out Holly J. didn't end the relationship and tells Holly J. that there's always a way out and that Sav would never stand up for her. Sav's mom shows up at the school to take his university application and he introduces Holly J. as his "friend." Holly J. then tells his mom that they are in a relationship and that she should know that the two of them are dating. Later, Sav shows up at the Dot where Holly J., Fiona, and Anya are hanging out. Fiona and Anya go to a different table while Sav reveals that his parents love Holly J. and encouraged them to continue going out. Holly J. then reveals that she did all that so they would break up. Sav looks distraught and hurt.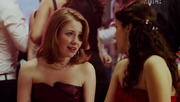 In Drop the World (2), Holly J. walks into a room where Fiona and Anya were talking and interrupts their conversation, asking "bring what up?". Anya replies by saying its her dry feet problem. Holly J. asks both Anya and Fiona out as her dates to the spring formal, which they both agree to it. Anya teases Fiona with a heart sign which Holly J. gets weirded out by. Later, Anya finally reveals to Holly J. that Fiona might be in love with her. Holly J. realizes after Bobby's trial that the kiss between them, and the jealousy were all part of Fiona's feelings towards her. Anya warns Holly J., since Fiona and Holly J. are best friends to not make things awkward for both of them. Later at Fiona's condo, Holly asks someone to help her to zip her dress and asks Anya instead of Fiona, even though she's not busy. Holly J. gets a 'text' from her mom to find out she won't be able hang out with Fiona that night, so she tells her to hang out with Anya instead, therefore making it even more awkward, which Anya points it out to Holly J. Later in the spring formal, Holly J. tells Fiona to check a random girl from the dance, which Fiona isn't quite excited to do. Later Fiona shows up and tells Holly J. that she ditched her. Holly J. finally reveals that she was doing it to make it less awkward, since she's her best friend. Fiona gets mad at her, and leaves her. Later Holly J. finds Fiona sitting in a corner. Holly J. tries to explain to her what she was intending to do. Fiona finally reveals that her feelings are waning, and that she can get over her in no time. They agree to sleepover that night.
Season 11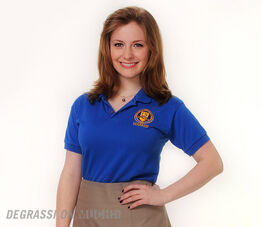 In Spring Fever, she convinces Fiona to attend her art class with her, and later encourages her to get to know her crush, Charlie, better. She is still on dialysis.
In LoveGame, Holly J., Anya, and Fiona have a group hug upon realizing this is their last semester in high school together. However, Sav interrupts, and before doing the morning announcements together, Holly J. and him come to terms with their break up.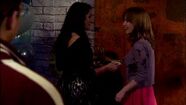 In What's My Age Again?, Holly J., Anya, and Fiona are planning Anya's birthday party and settle on a Paris theme. Her and Fiona tease Anya while she calls Doctor Chris and invites him to the party. Holly J. and Fiona help Anya with her fashion emergency, and later lie for when she sneaks out for her date. The next day, Holly J. tries to comfort Anya over Dr. Chris dumping her, and promises to have a girl's night with her and Fiona that night instead of her party, before leaving for student council. However, when Anya arrives to Fiona's condo, she discovers that Holly J. and Fiona still threw her the party; Holly J. tells Anya she has a guy from Toronto University she wants to introduce her to.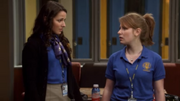 In Idioteque, when Fiona finds out that someone hooked up with someone in her bed, she and Holly J. start talking about how that person has low-self esteem, when it reality, it was Anya who hooked up with him. Later, Holly J. and Fiona confront Anya about her wallpost on Facerange, assuming that someone hacked her account. Anya tells them the truth she is the one who slept with Owen, and apparently that makes her pathetic. She leaves and Holly J. and Fiona look at each other in shock and with regret.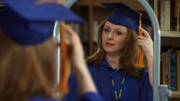 In Cry Me A River (1), Holly J. gets her graduate pictures taken, and gives Fiona advice about Charlie, suggesting to spend time and get to know her.
In Cry Me A River (2), Fiona unleashes her problems about Charlie onto Holly J. Holly J. hints that she think it is too early for Fiona and Charlie to move in together.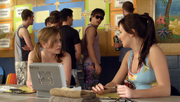 In Paper Planes (1), Anya admits to Holly J. that she tried coke the night before, but promises that she won't do it again. Later, during the volleyball tournament, Holly J. and Anya discuss where Anya is going to live while off at college and the topic changes to Anya's relationship with Owen. Holly J., trying to look out for her friend, tells Anya that she is too good for him. However, Owen overhears their conversation, and sprays Holly J. in back of the head with Gatorade, leaving her soaked and infuriated. During Anya and Owen's date at the club that night, Owen is still angry about Holly J.'s comment, and tells Anya that she can't hang out with her anymore, calling her "Holly J.'s lapdog."
In Paper Planes (2), Anya asks Holly J. for help with her interview so she can get into the only college willing to possibly accept her.
In U Don't Know (1), Holly J. instructs the girls on how to walk properly down the runway for the Fundraiser Charity Runway event. When they do not meet her expectations, Holly J. demonstrates to them how to walk properly, but she collapses and is unable to get up. Later, at the hospital, the doctor gives her the news that she was dehydrated and that her dialysis isn't working, saying she'll need a transplant soon, as one of her kidneys isn't working properly. At school, Holly J. talks to Fiona, who suggests she rests at home, which she agrees to, and puts Chantay in charge of the runway instead. At dialysis, Holly J.'s doctor tells her that she is the only one in her family with Type A blood, as everyone else has AB, which confuses her. Her mother tells her that she is "one of a kind," but that only serves to worry her more. Later at school, Holly J. shows Fiona pictures of her whole family,, but notices that pictures of her don't start until after Christmas of 1993. Fiona tries to soothe her worries, but Holly J. realizes she was adopted, as it explains why there are no pictures of her. After school, when her mother picks her up, Holly J. confronts her about her lack of baby pictures, and her mother tells her that they wanted to wait to tell her when she was older, but at 11-months, they adopted her. Her mother reaffirms her that she is still their child. Later at school, Holly J. decides to look for her birth parents on a government website.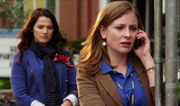 U Don't Know (2), Holly J. tells her mother in the car that no matter what, she won't worry that she was adopted and that her main goal is to find a person who can give her a kidney, she also tells her that her birth mom's name is Dawn and that she's going to call her. Her mother tells her not to lose faith. In the halls, Holly J. along with Fiona by her side calls her birth mom and tells her that it's her birth daughter, they make a lunch arrangement at the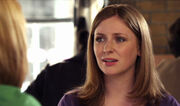 Dot. Accompanied with Fiona, Holly J. goes to meet her birth mom. Dawn, to her surprise has two kids. They talk and when Holly J.'s about to mention her kidney she chickens out and leaves. While at dialysis Holly J. learns that she'll need to find a donor fast because her kidneys are in the process of shutting down and that in the next 12 month she'll need to find someone, also this could ruin her chances of going to Yale. Meanwhile, Fiona does a blood test to see if she is eligible to give her kidney, but the blood test doesn't match, but Holly J. tells her mom that she wouldn't put Fi through that. Holly J. learns it's pretty much life or death and calls to meet Dawn again. She finally gets the courage and tells Dawn and Dawn agrees to do a blood test although it might be risky. Holly J. is walking out of school accompanied with Fiona again, she's nervous because she knows that she's going to get a call from Dawn any moment. Finally her phone rings and she answers. After a few awkward moments she hangs up. Fiona asks happily if she'll do it. Holly J. tells her that the tests came back positive, and that she'll do it, but for $20,000; they both sigh.
In Mr. Brightside (1), Holly J. is first seen in Fiona's condo trying on Prom dresses. Holly J. tells Fiona that she doesn't really feel like going to Prom, and that she is drained from all of the dialysis that she's been doing lately. Holly J. also still cannot fathom the fact that she is adopted. Fiona then reminds her that Dawn, her birth mother, also wants 20,000 dollars to donate her kidney. Holly J. then get upset that she is descended from 'a gold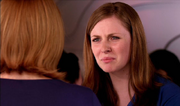 digger,' and how she doesn't have the money to pay Dawn for the kidney. Fiona then comforts her by saying she'll pay for the kidney, as a Prom gift. Holly J. says no, but Fiona insists. Fiona then gets a call and tells Holly J. that paying for a vital organ is illegal. Later on, Holly J. meets with Dawn and her two half-siblings, Josh and Breann, at The Dot. Dawn asks Holly J. why she isn't drinking any coffee, and Holly J. replies by saying that she needs to watch her liquids, due to the dialysis. Dawn tells her that it's all going to change soon. Holly J. then confesses to Dawn that she cannot pay for her kidney, and Dawn tells her that she knows that the amount of money she asked for is a lot. Holly J. tells her that it's not about the money, but rather the fact that paying for an organ is illegal, and that it's not against the law if you simply donate it for no cost. Dawn's mood changes rapidly, and she tells Holly J. that her life is nuts. Dawn tells her that after dropping her kids off, she has to work for nine hours,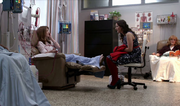 and that her friend (who is a registered nurse) told her that after the surgery, it'll take Dawn approximately three months to recover. Dawn tells Holly J. that she cannot afford to take that kind of time off of work, and that the donor list will come through soon enough. Holly J. replies acerbically, saying that she understands that Dawn is so selfish that she will literally give up a baby without a thought, and that when she has the opportunity to save her life, she lets her down again. Holly J.'s final statement to Dawn is, "You really shouldn't have children if you're not gonna be there for them." Holly J. gathers her belongings and walks out of The Dot. Later on, Holly J. is seen at the hospital, doing her dialysis. Fiona then comes, and asks if she made a connection with Dawn, and Holly J. replies by saying she called her selfish and that she should have never had children. Fiona says she has every right to be upset with Dawn, but Holly J. replies by saying that she's the selfish one - she never attem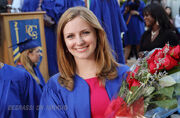 pted to get to know Dawn, and now she never will. Fiona asks what Holly J. is going to tell her Mom, and Holly J. said that she'll simply tell her that Dawn wasn't a match. Fiona tells Holly J. that she has to hang on to hope and that she has to keep on trying, and Holly J. contemplates about what Fiona just said.
In Take a Bow (2), Holly J. and Fiona have a fight, which leads her to reveal that she can't go to prom since she will have her surgery. She and Fiona later make up and Fiona comes up with an idea to have their own prom, along with Anya and Chantay. Holly J., Anya and Chantay all do a hand paint in the wet sidewalk with their initials underneath.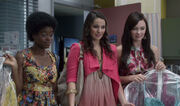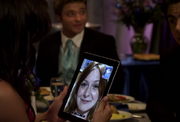 In Dead and Gone (1), Anya and Sav vist Holly J. after her surgery. Anya asked her for prom advice while Sav asked about secret hiding places around Degrassi.
In Dead and Gone (2), Holly J. is seen on Anya's iPad, so that she could talk to the gang and see what prom looked like.  
In Underneath It All, Fiona mentions that people barely know her now, as she is no longer in Holly J.'s shadow. She is later mentioned again when Fiona explains to Imogen that she got off to a wrong foot on her fresh start, as Holly J. is no longer around to be her guiding light at Degrassi.
In Not Ready To Make Nice (1), Fiona told her mother about her past crush on Holly J.
In In The Cold, Cold Night (1), since Mrs. Coyne is under house arrest, she thinks Fiona should have someone by her side before her transfer back to New York. Therefore she sends Holly J. to make sure Fiona is going to handle the new situation rationally. This makes Fiona very happy and she is very excited to see her.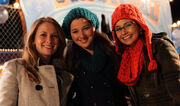 In In The Cold, Cold Night (2), Holly J. walks with Fiona to Degrassi. She states that Yale already feels like home and kneels down to her handprints on the sidewalk. Imogen walks up to the pair and says to Holly J. she feels like she's in the presence of royalty. Holly J., after getting the hint from Fiona, leaves. Holly J. is later seen with Fiona at her condo. Fiona is packing and snapping at Holly J., who then answers the door when the bell rings. Imogen enters, and after Fiona snaps at Imogen more leaves.
Later, Holly J. is seen helping Fiona. Fiona decides to sell some of her things to pay for the Frostival with Holly J. helping her, even buying something.
At the Frostival, Holly J. is seen with Fiona and Imogen, who are holding hands. Holly J. is happy for them, and questions Fiona on Imogen after Imogen leaves for cotton candy. Fiona tells Holly J. they had an interesting talk on the Ferris wheel. Holly J. finds out they're questioning. Fiona says she's coming back after the holidays and Holly J. sides with her, as Imogen returns with cotton candy for the three.
Degrassi: Next Class
Season 2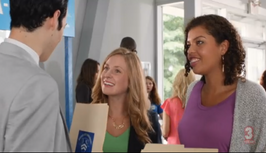 In #ThrowbackThursday, Holly J. shows up and greets Liberty and Tristan tells Holly J. that he idolizes her and would be honored to give her a tour as planned for everything. As Tristan is about to give them a tour they come across Lola who protesting against how fairly Tiny suspended. Grace walks up upset that Tiny got suspended but Frankie didn't and joins Lola's protest which tries to make them move, Liberty defends them asking Tristan is he denying their right to protest and joining Grace and Lola, which Holly J. makes comment saying that she's guessing he didn't have everything planned. Holly J. shows up as Tristan dismisses Zoë and Winston and walks telling her that as she can see he has got everything for the gale ready. Holly J. does he got the new schedule for her speech up and asks him why was Mo cut with Tristan informs her that he and Mo had creative differences. Holly J. also asks why Manny was as she was looking forward to her song is displeased with the fact Tristan cut Mo and Manny because Tristan wasn't fond of their performance. Holly J. is at gala sitting at a table with Mo, and Mr. Simpson and was watching Zoë and Winston's introduction skit. Holly J. is clapping after Lola gives her speech.
Mentions
Season 12
During I Want It That Way (2), Fiona's mom mentions the time she was jealous of Holly J. spending a lot of time with her mom.
Appearances
Trivia
Holly J. is the adoptive younger sister of Heather Sinclair, the infamous unseen character of Degrassi: The Next Generation.
She is idolized by former student Tristan Milligan, though she disliked his brother, Owen.
She appeared in 20 episodes in Season 9, more than any other character in that season.
Holly J. has appeared in the most Degrassi Minis having appeared in 26 mini-episodes.
Although Holly J. has mentioned differences between Heather and herself, it should be noted that Holly J. being adopted was not revealed until long after she was introduced. The adoption could be used as the reason why she isn't "the Devil's spawn" as Holly J. believed she should've been before her change of heart. It is very possible her being adopted was not an original plot point. 
She lost her virginity to Declan in the Season 9 episode Keep On Loving You.
At the end of Somebody, Mrs. Sinclair reveals that the J. stood for Jeanette. Holly J. also mentions this herself in Paper Planes (1).
She is one of many present and former Degrassi students who don't go by their full name. The others are:
Holly J. had an intense conflict with Alli, but later dated her brother Sav.
Holly J. was the romantic interest and has been kissed by both Declan and Fiona Coyne, but she only dated Declan.
When Holly J. was captain of the Spirit Squad, she changed its name to Power Squad.
Holly J. loves mushroom pizza.
She admitted to having feelings for Spinner right after he got shot in Danger Zone.
She has a yellow belt in Tae Kwon Do.
Holly J. is afraid of spiders.
She knows all the words to the musical Mamma Mia. Ironically, she called Mia "Mamma Mia" because she has a daughter.
She was adopted at 11 months in 1994, as revealed in U Don't Know (1).
She is the fourth of the five adopted characters. The first was Wheels, the second was Kendra, the third was Derek, and the fifth was Tyson. However, she is the first to have an adoption storyline since Wheels from Degrassi Junior High.
Holly J. is one of two adopted characters who met one of their biological parents. She met her biological Mother. Wheels is the other one who met his biological Father.
Her biological mother's name is Dawn, she got pregnant in college and her boyfriend (Holly J.'s biological father) walked away.
She has two younger half-siblings, named Josh and Breann.
She has had lower classmen girls kiss her boyfriends while she was dating them. Clare kissed Declan's neck in Innocent When You Dream, and Jenna kissed Sav in Halo (1).
She was the last person to be featured in the freeze frame in the entire Degrassi Franchise.
Holly J. was going to go to prom with Sav, however, she had to have the surgery on the same day.
She and Declan are attending Yale together.
She was valedictorian of the class of 2011, her senior year.
Jenna and Holly J. both wet themselves. Holly J. due to an illness, and Jenna due to her water breaking at the school dance.
Holly J. is the first character to get an organ transplant.
As shown in the 2008 Halloween special, she shares the same locker as Rick Murray.
Holly J. is the only character to work at both The Dot and Little Miss Steaks.
As revealed in Keep On Loving You, Holly J.'s email address is HollyJSinclair@ymail.com.
Holly J. was the last character to be Student Council President in their Junior year.
Holly J. had a crush on Toby in Another Brick In The Wall.
Holly J. was the first character who was cyberbullied. The second is Maya.
Despite being somewhat perceived as popular, she was actually disliked by most of the student body.

This is seen in Seasons 7 and 8 most notably.

Her character shared a lot of similarities with original Degrassi: The Next Generation character, Paige Michalchuk, as well as Kathleen Mead and Zoë Rivas.
Her rivalry with Darcy was never resolved.
Fiona Coyne realized she was a lesbian after she had a crush on Holly J.
Holly J. was one of the four heterosexuals to be crushed on by a homosexual. The other three were Griffin (by Marco), Peter (by Riley), Grace (by Zoe) and Cam (by Tristan Milligan).
She admitted in In The Cold Cold Night that since graduating, she does not miss Degrassi.
Holly J. is the fourth character to go by initials in their name (Holly Jeanette). The first was L.D. Delacorte (Lorraine Delacorte), the second was B.L.T. Thomas (Bryant Lester Thomas), the third was J.T. Yorke (James Tiberius), and then the fifth was K.C. Guthrie (Kirk Cameron).
Holly J. is the only graduate from season 11A to appear in season 11B.
In Heat of the Moment, 411 people joined the Facerange group against Holly J., including Anya, Derek, and Chantay.
In Innocent When You Dream, it was mentioned that Holly J. was a fan of the Fortnight book series and even read the online fan fiction. This leads Chantay to half-jokingly call her a "Fortnight freak."
She is Cassie Steele's favourite Degrassi character.
It is debated among fans whether or not her encounter with Declan in Love Lockdown (1) was consensual.
During her Straight Talk with Adamo Ruggiero interview, Charlotte Arnold said she has read through this page.
Quotes
"Gotta get your bible on?" (first line; to Darcy) - Standing in the Dark (1)
"I should go over my cue cards." (last line; to Tristan) - #ThrowbackThursday
"Well, new attitude, new love life, next semester's gonna be a hoot." (to Fiona) - In the Cold, Cold Night (2)
"Actually, Blue, I know exactly what my priority is right now; this taco. Got it?" - Just Can't Get Enough
(to Rick Murray's spirit) "Yeah, yeah, that's right, loser. You'd better run. This is my school and if I ever find out who you are, I'm gonna make sure you pay in spades for the rest of your life." - The Curse of Degrassi
(to the ghost of Rick Murray) "I'm Holly J. freakin' Sinclair and I will get evil on your ass!" - The Curse of Degrassi
Holly J.: "You have something on your face."
Derek: "What?"
Holly J.: "Ugliness." - Jessie's Girl
(To Mia) "Wake up and smell the scratch-and-sniff, Mamma Mia." - Hungry Eyes
(To Fiona) "This is New York Holly J., bitch!" - The Rest of My Life
(To Alli) "Like I need a reason to be mean to you." - Heat of the Moment
Anya: "Why do you always treat me like dirt?"
Holly J.: "...Because you let me." - Ladies' Night
(To Anya) "You don't want Holly J. Sinclair as an enemy." - Ladies' Night
"It's Holly freaking J.!" - Just Can't Get Enough
Blue: "There's no "I" in team."
Holly J.: "There is in bite me." - Wanna Be Startin' Somethin'
(To Anya) "Nice. Lovely. Love conquers all, now can we please conquer the mall." - Wanna Be Startin' Somethin'
"Hey sexy, is it hot stuff dance time?" - Holly J. to Fiona, thinking it is Declan - What a Girl Wants (2)
(To Jenna) "Save yourself the embarrassment. Sav will never go for you. Not in a million years." - Halo (1)
(To Sav about Mia) "I think you've seen her waddling from class to class." - It's Tricky
(To Clare) "Starting with sex toys early, little Edwards? What would Jesus say?" - Man With Two Hearts
"You like low maintenance... date a Honda." - Waiting for a Girl Like You
"I don't know what's worse. Those shirts or seeing Derek shirtless." - Fight the Power
"Then you might not want to make it a habit. The senior citizen vibe doesn't really fly around here." - Queen Bees
"'Hun, that dress is so flattering on you, I didn't know they make dresses for the concave girl.'" - Queen Bees
"'Hun, your butt is looking great these days! Oh I'm sorry, that's your face." - Queen Bees
(To Sav, to get his attention) "Tons of hot girls, workin' their bikinis on the beach...yeah, really makes me wonder if I should take up lesbianism, you know, just for kicks?" - Jesus, Etc. (2)
"News flash, Anya, we're not in Africa or wherever." - Ladies' Night
"It's called puberty! And if writing fan fiction keeps you from sucking on my boyfriend's neck, then please continue." - Innocent When You Dream
"Do you know how short strawberry season is? It's now or never!" - The Rest of My Life
(To Fiona) "Fiona Celestine Arabella Coyne, you naughty little minx!" - Boom Boom Pow
Anya: "He's going to Africa. He wants to save the world or something."
Holly J.: "That BASTARD!" *both of them giggle* - What's My Age Again?
"You can't punish someone for producing something from a textbook; this is school! " - Up Where We Belong
"When we leave Degrassi, we will take friendships that will last a lifetime." - Take a Bow (2)
(To Dawn): "You know you really shouldn't have children if you're not going to be there for them!" - Mr. Brightside (1)
(To Mia): "Thanks for the advice, Juno." - Didn't We Almost Have It All
(to Mia): "Why? So you can hang a scarlet V around my neck?" - Didn't We Almost Have It All
"You're right ... It's just that my future doesn't involve teen fatherhood." - What a Girl Wants (1)
"Manny, she's a mom. Isn't doing the splits got her into this mess?" (to Manny, referring Mia) - Sweet Child O' Mine
"Happy holidays, J.T." (to nobody, after J.T. disappears in Ghost of Degrassi Past)
Fiona: "And you said yes?!"
Holly J.: "I thought you'd have Anya."
Declan: "Do you hate me?"
Holly J.: "I regret what happened." - Love Lockdown (2)
"Leave it to me, to pick a guy with an emotionally unstable sister." to Jane, referring to the Coyne twins. (Deleted scene from The Rest of My Life)
(to doctor): "My memory is totally shot. Oh, another thing, my memory is totally shot...It's a joke." - U Don't Know (1)
(to Fiona): "And frankly, I'm tired of fixing everyone else's problems."
(To Emma and Kelly) "What are we celebrating, that you guys stop making out long enough to go skating?" - Degrassi Goes Hollywood
Mia: "What would I do without Holly J. Sinclair looking out for me?"
Manny: "Hold on. Holly J. Sinclair? As in Heather Sinclair?"
Holly J.: "She's my sister."
Manny: "Hold on. Boyfriend stealing, bad nose job having, puppy drowning, queen of evil is your sister?"
Holly J.: "Taught me everything she knows."
Manny: "This might be a problem. sweetie."
Mia: "I have to debate her tomorrow. Tell me everything."
Manny: "Let's just say if Holly J. and Heather share the same DNA, you're gonna have to fight fire with huge enormous flames."
Mia: "Got a light?" - It's Tricky
Relationships
Main article: Blue-Holly J. Relationship
Main article: Declan-Holly J. Relationship
Main article: Sav-Holly J. Relationship
Interaction