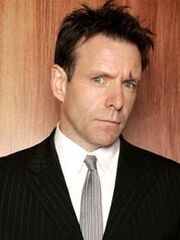 Hugh Rush Dillon
 was born on May 31, 1963 in Kingston, Ontario, Canada. He portrayed
Albert Manning
, the father of
Craig Manning
, in
Degrassi: The Next Generation
.
Hugh Rush Dillon landed his first big screen part in the notorious director Bruce McDonald's Dance Me Outside (1994). Next came his critically acclaimed lead performance as Joe Dick in McDonald's 1996 feature film, Hard Core Logo.
The film and in particular Dillon's performance caught the eye of legendary filmmaker Quentin Tarantino and his company, Rolling Thunder Pictures who distributed the movie and brought international attention to the revered indie classic and its lead actor.
Hugh's ability to capture honest, realistic portrayals of complicated characters has been his calling card. His role in The Trailer Park Boys: The Movie earned him a Gemini nomination for 'Best Supporting Actor' in 2007. He also starred opposite Vera Farmiga (The Departed) in the Sundance Film Festival award winning movie, Down To The Bone.
Currently Dillon stars as Detective Mike Sweeney, the first and second seasons of The Movie Network / Movie Central / ION's television series, Durham County. He also stars as Ed Lane on in CBS / CTV's highly acclaimed prime time police drama, Flashpoint.
Dillon's repertoire of notable roles in feature films includes Lone Hero also starring Robert Forster and Sean Patrick Flannery, 2005's Assault on Precinct 13 with Ethan Hawke and the cult classic Ginger Snaps: The Prequel.
Combining acting with a commendable career as a singer songwriter, Dillon first earned notoriety in Canada and abroad as the lead singer in the multi-platinum rock and roll band, The Headstones. Signed to Universal Music in the early nineties, the band released six albums. After the Headstones he formed the Hugh Dillon Redemption Choir and released The High Cost Of Low Living. Dillon will release a solo album this fall.
Transcending the rock world, Dillon has scored and written compositions for numerous movie and television productions including both of his current endeavors, Durham County and Flashpoint.