Wiki Targeted (Entertainment)
Play Sound
The friendship between Hunter Hollingsworth and Arlene Takahashi is known as Huntlene (Hunter and Arlene). Their friendship began in Season 14 of Degrassi.
Friendship History
Overview
Their friendship began when Hunter's twin sister Frankie Hollingsworth told him to switch seats with her so that he can be next to Arlene and tell her about his comics that he was showing Frankie the day before.
Season 14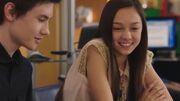 In (You Drive Me) Crazy, Arlene is being made fun of by Shay and Lola, which seems to really bother and anger Hunter. Frankie goes through a comic Hunter made because she's worried about his mental health, only to find out it was made to represent his dreams of rescuing Arlene from the Power Cheer. The next morning, Frankie sits next to Arlene and learns that she likes comic books, so Frankie switches seats with Hunter, allowing the two to discuss comics.
In Hush, Hunter and Arlene are hanging out together at The Dot where Hunter describes his encounter with the Power Cheer. He tells her that it was "some kind of interrogation" and says he told them he would stop so they would shut up. Arlene then mysteriously says that whatever is coming to the team, they deserve it.
In Give Me One Reason, a secret admirer sends flowers to Arlene. However, Arlene didn't care for the gift, and called the sender unoriginal. Hunter got confused about why she didn't like the flowers and why she didn't like the person. Both go to meet the admirer, but he didn't show up. Hunter refers that the person is a jerk. Arlene gets angry that Hunter thinks that she can't be loved. Hunter gets confused. Both meet up later over comics and Arlene apologizes to Hunter. She then refers to him as a "Best Friend" since Hunter was there for her.
Trivia
They both are geeky and enjoy comics.
They are both members of the Class of 2017.
They were set up by Hunter's twin sister Frankie Hollingsworth at the conclusion of (You Drive Me) Crazy.
Hunter drew comics about taking revenge on the cheerleaders and saving a princess who resembles Arlene.
The reason why Hunter hates cheerleaders is because they pick on Arlene.
In the episode Hush, Hunter is suspected as the person who blackmailed the cheerleaders, but it is revealed that he wasn't.
Timeline
Gallery