The friendship between
Kelly Ashoona
and
Manny Santos
formed in the
eighth season
of
Degrassi: The Next Generation
when the two became roommates at
Smithdale University
due to
Emma Nelson
meddling with Manny and
Liberty Van Zandt
's room assignments. Manny and Kelly got along well, usually keeping a friendly demeanor with each other, and he was a supportive friend to her. Manny briefly developed a crush on him, but she gave up when it became obvious that he liked Emma.
Friendship History
Overview
Manny and Kelly first met when Kelly was placed into a girls dorm by accident by the student housing committee. The two developed a friendship throughout their freshman year at Smithdale University. Manny developed a crush on Kelly, along with her friend Emma and they began a series of small experiments to figure out who he would be compatible with. Even though he began dating Emma, he and Manny remained friends.
Season 8
In Uptown Girl (1), Manny and Kelly meet each other for the first time when they are assigned to the same room thanks to Emma messing around with Liberty and Manny's housing arrangements. When Kelly first arrives, Manny tells him that they were expecting someone a little more "estrogeny."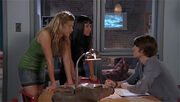 In
With or Without You
, Kelly brings Manny lunch during a lecture, and she thanks him, telling him he is the best. Manny hopes to partner up with Kelly for their class project compatibility test, but Liberty and Kelly had already paired up. Later, her and Emma establish that they both have crushes on him, and decide to see who he has feelings for. When Emma and Manny walk in on Kelly having sex with Gwnyeth, they realize that he doesn't have feelings for either of them. They both confront him later about who he likes, but Kelly says that he is following the "no dating other roommates" rule, and tells Manny that she is being scary while confronting him. Kelly says that he would be into one of them if it wasn't for the rule.
In Lost in Love (2), after the uncomfortable situation is over, he learns from Manny that Emma had left for her house.
In Degrassi Goes Hollywood, Kelly is frequently seen with Emma supporting Manny on her journey to Hollywood.
Rival Relationships
Trivia
Gallery