Lakehurst Secondary School was a secondary school in the Scarborough area of Toronto, 17 minutes away from Degrassi Community School. Lakehurst first appeared in Season 6 of Degrassi: The Next Generation, as a rival school to Degrassi. This ongoing rivalry ultimately reached its climax when Drake Lempkey killed J.T. Yorke in Rock This Town. Lakehurst burned to the ground shortly afterwards, and its students were integrated into Degrassi.
Lakehurst-Degrassi War
Lakehurst was a rival school of Degrassi Community School. This was an intense rivalry that began when a riot started in the Degrassi school's gym. After the riot, the two schools started a war that had many incidents in the 2006-2007 school year. This includes the death of Degrassi student J.T. Yorke. A student from Lakehurst crashed a party where most Degrassi and Degrassi alumni students were attending. After a brief altercation, Drake Lempkey stabbed and murdered J.T., which made the Degrassi students angrier than ever. Mostly because of this event, Degrassi students ruined a cheer competition for the Lakehurst cheer team and a riot occurred in the Degrassi halls. After this, the Lakehurst-Degrassi feud simmered down.
Lakehurst Fire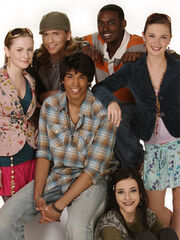 The school burned down during the 2006-2007 school year, forcing the remaining Lakehurst students to attend Degrassi.
Students
Notable Events
Trivia