Mary-Kate Sinclair
is the adoptive mother of
Holly J. Sinclair
and the biological mother of
Heather Sinclair
. She was portrayed by Susan Hamann.
Character History
Season 8
She appears in
Money for Nothing
, where Holly J. finds her at the table, cutting credit cards in half with scissors. She tells Holly J. that her father made some risky investments and, as a result, lost all of his money. She asks Holly J. to hand over her credit card and, after Holly J. does so, cuts it in half. Then, when they arrive at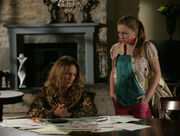 Degrassi Community School, Mary-Kate tells Holly J. that her husband expects her to get a job.
She tells Holly J. that she has to give up the concert (which means her date with Blue), and that they would see about the cheerleading trip. She hands Holly J. her lunch.
She is unable to pick up Holly J. after school, as the bank was taking the car back, so Holly J. has to take the bus home.
In Heat of the Moment, she is seen by Alli Bhandari through a window briefly with Mr. Bhandari as they are talking with Mr. Simpson about the hate group "I Hate Holly J." She is mentioned when Mr. Simpson tells Alli, "Mrs. Sinclair says that Holly J. is refusing to come out of her room because of your act!"
Season 9
In Somebody, she defends Holly J. when her and Declan Coyne were caught kissing in front of a crowd. She agrees with Mrs. Coyne that the two shouldn't see each other.
Season 10
She is most often seen telling Holly J. to pack up for their move. She gives her daughter advice when it comes to Declan and consoles her when she thinks they broke up. She thinks that Declan is no good for her, but only implies it.
Season 11
In
U Don't Know (1)
, she is seen with Holly J. in the patient room, telling Holly J. that they will find her a kidney donor. She later tells Holly J. she is adopted, because after Heather's complicated birth she was unable to have more children.
In U Don't Know (2), she is seen talking to Holly J. about her birth mother. She warns her that they don't know Holly J.'s birth mother.
Appearances
Trivia