Matthew "Matt" Oleander
was a major recurring character on the Canadian television series,
Degrassi: The Next Generation
. He acted as
Degrassi Community School
's Media Immersion student teacher during the 2004-2005 school year, but was fired after having romantic relations with one of his students,
Paige Michalchuk
. He was portrayed by
Christopher Jacot
.
Character History
Background
He was sent to Degrassi Community School as a student teacher. He was assigned to the Media Immersion class, where he met Paige Michalchuk. After a period of time, she finally convinces him to enter a secret relationship with her. When Manny Santos unveils their relationship to everyone, Matt is fired and sent to Nunavut.
Season 4
In Bark at the Moon, Matt and Paige argue about their relationship. He tries to kiss her outside of the dance, but Manny accidentally sees, and they both flee the scene. Outside of school, Paige and Matt continue arguing, but come to an agreement that they want to see each other, ending up kissing. During class, Matt would give Paige notes, making Hazel, Paige's best friend, become suspicious about the two of them being together, which she later confronts Paige about. After a catfight between Paige and Manny, Manny reveals the two's secret relationship in front of everyone and Mrs. Hatzilakos. Matt tells her that Paige was obsessed with him and stalked him. Though after many fights, Paige and Matt continue to see each other.
Season 5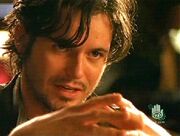 Matt returns in Death of a Disco Dancer after being sent to Nunavut. Paige gets him a gift, and he breaks up with her, finding the two of them to be too different from each other. Matt leaves for Kingston this time, and for good.
Appearances
Trivia
Relationships
Main article: Paige-Matt Relationship