Mel
was a minor character who briefly
dated
Jay Hogart
. She got
Alex Nuñez
a job at
Zanzibar
and tried to talk her out of becoming an exotic dancer.
Character History
Season 6
In Don't You Want Me? (1), she is introduced as Jay's girlfriend and a waitress at The Zanzibar. She offers to schedule Alex an interview for a job there. She tries to talk Alex out of being an exotic dancer, saying being out there changes a person.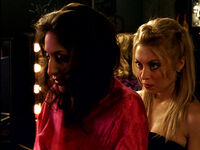 In Don't You Want Me? (2), Mel informs Alex that Paige called while she was on stage. She promises to keep Alex's stripping a secret from everyone else. She is at a club with Jay, Alex, and Paige, and calls Alex's gift from Paige "sexy" and "perfect for work". When Paige comes to Zanzibar to wish Alex a "happy last night working there", Mel tells her she should go.
Season 7
In Love is a Battlefield, Jay mentions that he and Mel broke up, and that he misses her.
Trivia
Mel's surname was never revealed.
Relationships
Main article: Jay-Mel Relationship