Mrs. Cooney
is the maternal grandmother of
J.T. Yorke
. She appeared in
season 5
and
season 6
.
Character History
Season 5
In Turned Out (1), Liberty and J.T. decide to tell her that Liberty is pregnant and that they want to raise the child. She is appalled, and stiffens her tone to say "James Tiberius... do you have any idea what it takes to raise a child? You are far, far too young!" J.T. tells her that they came to ask if she wanted to help them, and Mrs. Cooney says that she does not want to spend her retirement raising a child again. She asks them if they ever thought about adoption, and they tell her that they considered it but they love each other. J.T. says they'll have it figured out, but she reminds him what happened to his father when the going got rough. He replies by telling her that he is nothing like his father and leaves with Liberty.
In Turned Out (2), Mrs. Cooney is seen at the hospital with Harold Van Zandt and Mrs. Van Zandt, after J.T. overdoses on oxycodone. She looks through the window while Liberty talks to J.T. about their relationship and adoption.
Season 6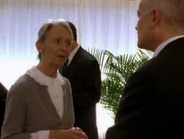 Mrs. Cooney appears in
The Bitterest Pill
for J.T.'s funeral. She thanks the minister for speaking on behalf of her family and for putting the service together. She also tells him that J.T. was "just the sweetest boy" and that she doesn't understand why anyone would want to hurt him. She then starts to cry. After the service,
Darcy Edwards
and
Alex Nuñez
offered her their condolences.
Appearances