Mrs. Novak is the mother of Zig Novak. Mrs. Novak is portrayed by Shauna MacDonald.
Character History
Season 12
In Got Your Money (1), she is shown sweeping the sidewalk outside of her convenience store. Zig asks her if any hair clips had come in, as he was looking for a present for his anniversary with Tori, and she says no, though she gives him a bracelet that had just come in that day. She learns from Damon Carter that Zig has a girlfriend, and she asks Zig why he hasn't brought her home yet to meet her.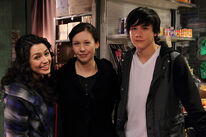 In
Got Your Money (2)
, Zig admits to her that he stole $50 from the
Degrassi Student Council
and that he hates being poor. Mrs. Novak says to him that a true friend won't care if he is poor or not. She gives him $50 from the store's cash register to pay back
Marisol Lewis
, and sends him to the dance for the show. Later, Zig arrives home after
WhisperHug
performed, and tells his mother to go inside and watch television, as he would finish her shift for her. When his
girlfriend
Tori Santamaria
shows up at the store, Zig introduces her to Mrs. Novak. Tori excitedly hugs her, as she was finally glad to meet her. Mrs. Novak returned the compliment.
Season 13
In What It's Like, it is mentioned that she kicked Zig out of the house.
In Enjoy the Silence, it is mentioned Zig doesn't talk to his parents and most of her family is in Serbia.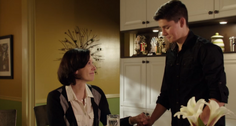 In
My Hero
, Zig reveals that his mother kicked him out after she found out that Zig was selling weed through the store and refused to leave the gang. After school, Zig stands up a meeting with his mother because he doesn't think he can handle it. Later, she comes over to Maya's house to meet him, and Zig has cooked them a meal. Mrs. Novak tells him that she waited for him, but he never came, and Zig reveals that he was scared that she wouldn't forgive him. Mrs. Novak takes his hand, as she has forgiven him, and they eat their meal together.
Trivia
She owns Novak's Convenience Store.
She speaks Russian.
She wears glasses, as she asks Zig if he has seen them in Got Your Money (2). Despite this fact, she is never seen wearing glasses, so it can be assumed that they are just reading glasses.
Quotes
"Да./Da." to Zig (Translation: Yes.) (First line)
"У тебя есть девушка?/Ooh tyebya yest dyevooshka?" to Zig (Translation: You have a girlfriend?)
"Зайка./Zaika." to Zig (Translation: Bunny.)
"Ты не видел мой очки?/Ti nye videl moi ochki?" to Zig (Translation: Have you seen my glasses?)
(To Zig) Novaks' own up to their mistakes