Mrs. Van Zandt
is the wife of
Harold Van Zandt
, and the mother of
Liberty
and
Danny Van Zandt
. Her husband is a lawyer and she is a stay-at-home mother. They are a wealthy family. She was portrayed by Arlene Duncan.
Character History
Season 5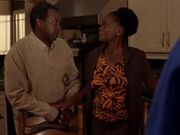 In Turned Out (2), they find out that Liberty is pregnant, and J.T. is the father of their first grandchild. She is shocked, but offers to help Liberty in any way that she can. She and her husband want Liberty to stay at home and cut J.T. out of the picture, but Liberty refuses and begins to pack her bags. Later, at the hospital, she is there with her husband and Liberty to visit J.T. while he is getting his stomach pumped.
In
Together Forever
, she is with Liberty after she gave birth to her son. After the baby is given to his adoptive parents, she comforts Liberty in an embrace.
In Total Eclipse Of The Heart, she and her husband tell Liberty the news that the baby and his adoptive parents are moving to Seattle.
Season 7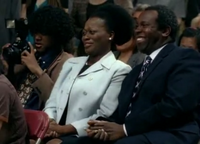 In We Built This City, she attends Liberty's graduation. When Liberty's name is called to receive her diploma, she cheers loudly.
Appearances