"I am going to fight this, and I am going to win."
— Clare Edwards
My Own Worst Enemy
is the fourth episode of
Season 13
. It aired on July 25, 2013.
Main Plot
The episode opens with Clare in the MRI machine, preparing to start the scan. She tells the doctor that she is "terrified". The doctor tells her that it is normal to be nervous and that it is critical that she not move during the scan. Clare, nervous, begins stalling - asking the doctor several questions, and the doctor tells her to relax and that Eli and Clare's mom are right outside. Clare says that she is ready to start the MRI.
Clare tells Eli that if the cancer has spread to her brain the chemotherapy will not be able to treat it. Eli tells her that they will try something else if it has spread and that she should stop using her computer. Eli suggests that they watch Life of Pi to get her mind off of the cancer. The doctor enters and tells Clare that she is done chemotherapy for the day and that her MRI results are being reviewed by the oncology team. Clare asks if this is bad and the doctor says she doesn't know and Clare says that if she's dying she has a right to know. Eli says that she's not dying and Clare's mom agrees. Clare says that she is going to visit a friend, Paula, that she met in the therapy group.
Clare goes to Paula's room and Clare's doctor is in the room but Paula is not there. Clare says that she must be in the wrong room, but the doctor tells her that the room was Paula's but isn't anymore. Clare asks if Paula checked out from the hospital but her doctor says that Paula died earlier that morning. Her doctor says that she's sorry and Clare says that she had the same type of cancer as Paula.
Drew comes to Clare's hospital room and Clare tells him that they need to talk about the first day of school because Drew is the school president. Drew asks Clare why she asked him to leave the day camp to talk about something that's two months away. Clare says she wants to start by discussing new student orientation, and then realizes that there's a dog in Drew's basket. Drew says he was taking the dog to camp before Clare told him to come to the hospital. Clare says that she wanted Drew to come to the hospital because she is nervous about her MRI results and that she's not ready to know if she's going to die. Drew tells her that she could leave the hospital.
Drew dresses up as a doctor and puts a wig on Clare's bed to make it look like she is sleeping. Drew plans to hide Clare under a sheet on a gurney so that the nurses don't see her leaving. Clare decides that she wants to go to Degrassi because her friends are there.
At Degrassi, Clare asks if she can help with the camp. Clare participates in a race with the little kids, being a little girl named Madison's partner. Shortly after starting, Clare becomes nauseous and throws up behind an obstacle.
A little boy coughs in Clare's face and she angrily tells him that an infection could kill her. Clare tells Drew that she is scared she might catch an illness and she needs to go back to the hospital.
Eli goes to the hospital and angrily tells Clare that the hospital almost called a Code Yellow; meaning they were going to send the police out to look for Clare. Eli says that Clare could have caught an illness or started to bleed or reacted to the chemo and Clare says that she knows it was stupid of her to leave but that she doesn't know how much time she has left and she wants to spend her time having fun. Eli says he was really worried and they kiss. Clare's mom comes in and says that her MRI results came back clear however that the doctor says she isn't "out of the woods" yet. Clare says she is going to win her battle against cancer.
Sub Plot
Alli is at the coffee shop Leo works at. She asks him for a coffee. Jenna comes into the restaurant and shows Alli a rock that Connor gave her during their visit to the Catacombs. Alli says that she hasn't gone to the Louvre yet and Jenna says that its because she's been flirting with Leo all day. Alli says that she really likes Leo and Jenna tells her to get to know him better. Alli is disappointed that Leo hasn't asked her out yet so Jenna tells Alli to ask Leo out herself. Alli asks Leo if she wants to "do something with her" and Leo says that he will hang out with her once he gets off work at 3:00, but Jenna reminds Alli that she has a presentation at 3:00, so Alli and Leo agree to meet at 4:00.
Alli does her French presentation on the Louvre. Alli gets a C on the presentation and she asks Madame why. Madame says that it's because Alli obviously didn't go to the Louvre because she described the Mona Lisa as "big". Alli asks if she can re-do the presentation and Madame says that she can re-do it tomorrow but she needs to actually go to the Louvre this time. Alli says it's not a problem. Jenna tells her it is a problem because she has a date with Leo. Alli decides to go to the Louvre for the date.
Alli and Leo go to the Eiffel Tower. Alli asks Leo if he has ever been to the Louvre and he says he has been there several times and that he enjoys The Last Supper painting and the interior of the museum. Leo asks Alli if the picnic he planned is disappointing and Alli says that she did poorly on her presentation and that she's been given a chance to re-do it. Leo asks if she wants him to do her homework for her and Alli says that she doesn't want him to but Leo, angry, leaves.
Alli goes back to her hotel room and tells Jenna and Maya what happened. Jenna tells Alli that it's okay but Alli says that she doesn't want to lose Leo.
Alli goes to Leo's restaurant and Leo says he's busy. Alli asks if they can talk because she only has 10 minutes before curfew and she explains why she needed to go to the Louvre. Leo says she should have just told him that and Alli says that she really likes him. Leo agrees to give her a second chance and he asks if she still needs to do her project. She says yes and that it is due tomorrow and he agrees to go to the Louvre with her.
Third Plot
Tristan enters the hotel lobby with Miles. Tristan goes to talk to Maya, and he tells her that he is happy with how his Summer is going so far. Maya asks Tristan why he is all of a sudden friends with Miles when yesterday they were enemies and Tristan says that he has a crush on Miles. Maya says that she doesn't think that Miles is gay. Zoë overhears, thinking that Tristan and Maya are talking about Winston, and Tristan tells Zoë that they were talking about Miles. Zoë tells Tristan that she wants to date Miles and that she shouldn't underestimate him. Madame enters and tells the students that she wants everyone to buy French food for the rest of the class to sample and that they should be in groups of two people. Miles agrees to be partners with Tristan, which Zoë is angered by.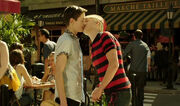 Tristan and Miles go to a restaurant and Tristan orders food for them. Tristan says that the waitress is cute but Miles says that she's not his type. A hip hop song comes on and Tristan says that he likes the song. Miles says that he knows a dance to the song and Tristan is surprised that Miles is a dancer and that he took a hip hop dance class because his sister was a tap dancer and he had to go to the dance studio with her anyway three nights a week. Tristan tells Miles to show him the dance but Miles says he doesn't remember. Miles explains that when his father found out he was in the dance class he made Miles withdraw from the class. Miles says that his dad doesn't get him and Tristan says that he understands and that he's sorry. Miles thanks Tristan for being "easy to talk to" and Tristan kisses Miles.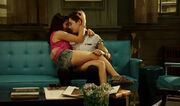 Tristan apologizes but Miles says it's alright and they proceed to go to find more food.
Tristan tells Maya that he kissed Miles and Maya asks if they are dating now. Tristan says he doesn't know and that he needs to ask Miles out first unless Miles asks him first. Tristan says all his dreams are coming true but they walk in on Zoë sitting on Miles' lap. Maya says that she can't believe it and Tristan, upset, leaves.
Regular Cast (Ordered Alphabetically)
Guest Starring
Supporting Cast
Pauline Wong as Technician
"French Cancan" by Inna MODJA
"Head Go Wild" by Dirty Radio
"If I Could Take You Home" by Relient K
"Thinking About You" by Dear Rouge
"Le Sens De La Vie" by Tal