Mrs. Cameron
is the mother of
Sean
and
Tracker Cameron
. She lives in
Wasaga Beach
with her husband,
Mr. Cameron
, and Sean's dog
Charlie
. Mrs. Cameron was portrayed by 
Jayne Eastwood.
Character History
Season 4
In Back in Black, Sean is tired of being treated like a hero after the death of Rick Murray.
After seeing his mother on the news doing an interview, He, Ellie, Emma and Jay go to Wasaga to visit Sean's parents.
When he goes to his house, Nona opens the door and tells Sean that she heard what happened.
Sean is angry with her for her "performance" since she is playing the abandoned mother role when she was the one to give up on him. Nona closes the door on Sean.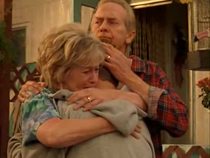 Sean later returns to his parents' house and when Mr. Cameron sees Sean at their door, he asks him, "So, when are the cops getting here?" right away.
Sean's mother tells him to ignore him. Mr. Cameron is disbelieving that after 4 years of no contact that Sean is here "just for kicks".
Mrs. Cameron says that sending Sean to Toronto was the best thing they ever did since it kept him out of jail. Sean explains to his parents what happened with Rick Murray and how he thinks he might have killed him.
Mr. and Mrs. Cameron hug Sean, who had begun crying. Sean decides to move in with his parents after this encounter.
Mentions
In Under Pressure, Tracker mentions to Sean that their mother called, saying she is now sober and that she wants to talk to Sean. Sean gets angry at this since he assumes that they will make him move back home.
In Message in a Bottle, Sean mentions that his parents are drunks.
Trivia