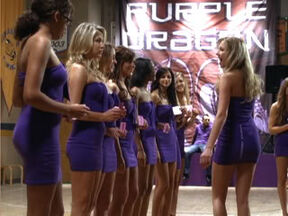 Purple Dragon is a fictional energy drink of the Degrassi universe, similar to Red Bull in reality. In Season 7, in the episode Hungry Eyes, Purple Dragon had taken over Degrassi to sponsor a badminton tournament. Emma Nelson (along with Manny Santos and Liberty Van Zandt, who both dropped out shortly after) became some of the models of Purple Dragon.
Natasha, the leader of the Purple Dragon models, yells at and scolds Emma for kissing a customer (Damian Hayes), pouring the drink on Bruce the Moose after he tells her dirty things, and for actually trying to consume the high-calorie drink. She also warns Emma that she is wearing the largest size of dress and that she needs to watch her weight. Emma knew that she couldn't think about dropping weight as she was recovering from anorexia and soon realized that Purple Dragon girls were only meant to look sexy so people will buy their product.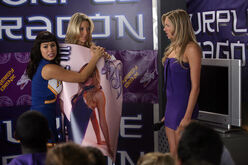 During the end of the tournament, Emma criticizes Purple Dragon and after Natasha tells her that she wasn't allowed to speak like that while she was wearing the purple dress, she takes off her dress, leaving her standing butt naked in front of the entire audience as Manny Santos tries to cover her with posters as quickly as possible.
Later, Archie Simpson tells her that Daphne Hatzilakos had decided to not give her a suspension since she was proud of Emma for taking a stand, so she only had to have two detentions for violating the dress code.
In Bust a Move, Purple Dragon also held a concert that Manny, Emma, Ashley, Jimmy, Jay, and Spinner all attended. They were all excited, until they found out that the mystery guest was Craig.