Sally
is
Ashley Kerwin
's aunt, after her brother,
Christopher
, marries
Robert Kerwin
. She was portrayed by
Leah Cudmore
.
Character History
Season 4
In Voices Carry (1), she introduces herself to Craig Manning, informing him that Christopher has told her all about him. She flirts with him, which only drives Craig into a speech about how he loves Ashley and is lucky enough to be with her. She is at the party at the gay bar before the wedding, and is seen talking to Toby Isaacs. Later, after Ashley rejects Craig's proposal, she talks to Sally about if she loves Craig and what she is going to do.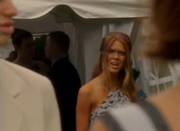 In
Voices Carry (2)
, Sally is the "best woman" for her brother at his wedding. At the wedding reception, after
Ashley
stormed out when Craig announced their wedding engagement to her family, she asks Ashley if she is okay. While Craig is making a scene, she watches in shock and disbelief.