Sully
is the star of the
Degrassi Soccer Team
and an ex-boyfriend of
Manny Santos
. He first appears in the
Season 2
episode
Dressed in Black
, where he walks past
Ashley
and
Jimmy
with a group of guys and mocks Ashley for dressing in her goth style. He goes after slutty girls, which is why Manny tries to make herself look "hot". After she does this, he likes her, but they soon break up because he only liked her for her slutty looks.
Paige
refers to him as the school's all-around dork.
Character History
Season 2
In Dressed In Black, Sully made fun of Ashley's gothic look and told Jimmy that he was glad that he was dating the creepy chicks, and saving the hot ones for him and his friends.
In Fight for Your Right, he is interested in buying an mp3 player that Spinner stole from Jimmy.
In Tears Are Not Enough (2), he is seen at the beginning of the episode on the morning announcements, reminding everyone about the end-of-the-year Aloha dance.
Season 3
In U Got the Look, Sully takes a liking to Manny when she starts dressing in sexier, more revealing attire and decides to ask her out on a date. He was also very rude to J.T. when he also attempts to ask Manny out. J.T. is crushed when Manny chooses Sully over him.
In Should I Stay or Should I Go?, Sully is confronted by Manny when she didn't receive a rose from him. He nonchalantly gives her back the rose she bought for him and tells her to "pretend it came from him". When Manny brings up the fact that Craig Manning bought a rose for his girlfriend Ashley Kerwin, Sully smugly says that Craig is a "sucker" and then walks away, leaving Manny disappointed. This episode was the last appearance of Sully.
In This Charming Man, Spinner mentions that their driving instructor didn't even let Sully take his driving test, and Paige says that he is a known dork.
Trivia
Sully was Manny's first boyfriend.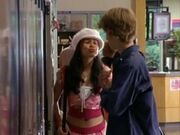 Appearances
Relationships
Main article: Manny-Sully Relationship