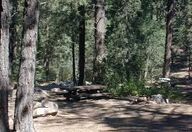 The Ravine
refers to the woods behind
Degrassi Community School
, a central location, most infamous for parties and sexual activity. It was first introduced in
Season 3
.
History
Season 3
In Gangsta, Gangsta, Emma, Sean, and a group of other people work on a project to clean the ravine, picking up litter. Sean and Emma end up making out in the forest.
Season 4
In Secret (1), Emma meets Jay down at the ravine and performs oral sex on him in a black van. For performing the act Emma received a sex bracelet. Later on it is revealed that several students had contracted oral gonorrhea from Jay.
Season 5
In Turned Out (2), J.T. begins to sell drugs to help pay for money for his apartment with Liberty. After he is later dumped by Liberty, he overdoses on prescription drugs and passes out.
Season 8
In Heart of Glass, Alli loses her virginity to Johnny in a van.
Season 10
In The Way We Get By (2), Drew and Bianca go to the ravine and do shrooms which they get from Bianca's friend, Ron-Ron.
Season 12
In Sabotage (2), Drew porposes to Bianca in the ravine after deciding to open a joint bank account with her.
Season 13
In Army of Me, Mr. Yates hosts the first meeting of the Playwriting Collective, in which a select few are chosen and the meeting location is kept secret. Tristan finds out that the meeting is held in the ravine, to which he is accepted into joining the club.
In Everything Is Everything, the Playwriting Collective holds a meeting where the members share original character bios.
In You Are Not Alone, Jack invites Clare to a secret party in the ravine where the party-goers are seen drinking and throwing axes at large wooden dartboards. Clare uses the experience as a distraction from her break-ups with Drew and Eli.
In Enjoy the Silence, Jack and Clare, as well as many other students, are back at the ravine, having another axe-throwing party. Alli tags along with them. Jack brings a poster of Drew's face, and hangs it along the wooden dartboard, where Clare proceeds to throw an axe at it.
Notorious Characters
Characters from Degrassi who have been known to attend one of the parties at the Ravine include the following:
Gallery