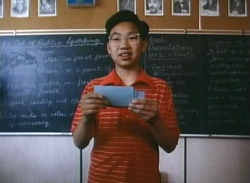 Starts as: Grade 8
Wai Lee was an 8th grade student at Degrassi Junior High School. He was in Mr. Raditch's class. Not too much was known about him besides the fact that was on the boys' soccer team and he loved watching T.V. He was portrayed by Kei Kei Hung.
Original Degrassi: Season 1
In The Great Race, Wai Lee was a member of Degrassi Junior High's Boys' Soccer Team. He, Jason Cox and Wheels were chosen for the swim race against the Degrassi Girls' swim team but they lost.
In It's Late, Wai Lee was seen attending Lucy Fernandez's party and he was dancing with Erica Farrell.
In The Best Laid Plans, he and along with most of his fellow classmates heard about Wheels going on a date with Stephanie Kaye. He along with many of the other boys were constantly encouraging Wheels to go all the way with Stephanie by constantly chanting "All the way with Stephanie Kaye."
Original Degrassi: Season 2
In Stage Fright, we see Wai Lee finishing a speech about how much he loved watching T.V. it sounded like he had made it up at the last moment and he didn't put too much effort into it. The class didn't find it too exciting either. Mr. Raditch advised him too pay much more attention to his school studies and not so much time watching television.